The term 'green roof' takes on a whole new meaning at Worcester Polytechnic Institute in Massachusetts. The university is currently working on construction of a rooftop field atop a parking structure. Luckily for players who use the field, the structure will only rise about one-story off the ground. And thanks to netting strung around the perimeter of the field, they won't have to worry about loosing soccer or baseballs over the edge and into the abyss.
"This parking facility will contribute further to the greening of the WPI campus, as it will allow removal of most of the parking spaces from the quad and the West Street entrance," WPI President and CEO Dennis Berkey said in a statement. "Given that the baseball and softball fields are already at a lower elevation than Park Avenue, this single layer of parking will not be visibly obtrusive. We will restore the playing fields on top of the roof deck, almost at street level at the east end."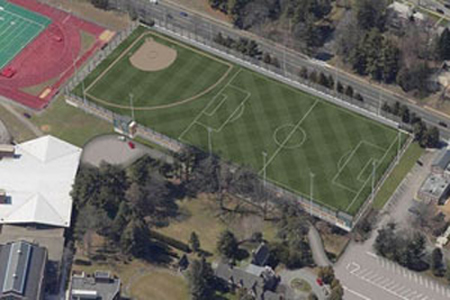 Ground is expected to be broken on the $20 million, 534-car parking garage in May. The rooftop field will be used for soccer, softball, field hockey, lacrosse and rugby. And while parking garages are no longer eligible for Leadership in Energy and Environmental Design (LEED) certification, officials say the structure will be built with many sustainable features in mind, including an electric vehicle charging station and a stormwater management system.
This isn't the first time the school has dabbled in green roofing. In 2008 WPI opened its environmentally conscious, LEED Gold-certified residence hall, East Hall, which features the city of Worcester's first living green roof. Before that, the university's admissions and financial aid building became the first to be LEED certified in 2006. On tap for the school is also a sports and recreation building expected to achieve LEED Silver status.