Editor's Note: EarthTechling is proud to repost this article courtesy of GreenTech Advocates. Author credit goes to Steven Castle.
The next big thing in green tech homes could be energy harvesting.
We're not talking about solar electric systems or using motorized window shades to help heat or cool a room or harvest light to defray lighting costs. In this case, energy harvesting means self-powered devices like light switches, sensors and other devices that can actuate energy-efficient processes in a home or business.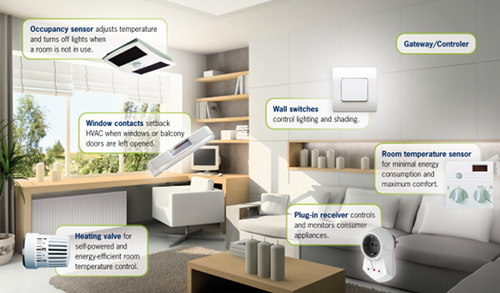 A company at the forefront of this is EnOcean, which licenses its self-powered technologies to more than 200 companies in the EnOcean Alliance. A great majority of these devices have been made for commercial environments, but EnOcean is making a move into the home automation arena.
"Our biggest potential is in homes," says EnOcean president Jim O'Callaghan, who says the company's technology can be used for lighting, HVAC, security, and digital health monitoring, among other applications.
EnOcean devices are typically powered three ways: kinetic, solar or thermo power. Kinetic energy uses the small amount of energy from pressing a button or switch to charge itself and send a low-energy wireless signal from a lighting switch, for example, to a controller. Integrated solar cells are often used on wireless sensors like occupancy and motion sensors and door and window contacts, harvesting the energy from outdoor or indoor light. And thermo power works by creating energy from the thermal differences around things like heating and air conditioning ducts.
O'Callaghan sees a lot of promise in the home energy market for the thermo powered sensors to use the energy they harvest to signal air vents to open and close, thereby assisting HVAC systems to run more efficiently. And since heating and cooling represent almost half of an average home's energy bills, saving money on HVAC is a great place to start.
Kinetic devices for lighting control can eliminate the need to run wire from a switch to the fixture—and instead just have a powerline wire to power the fixture. The switches can be peeled and stuck right to a wall. Verve Living Systems already sells EnOcean-based lighting control systems.
Leviton also uses EnOcean technology in some of its lighting systems, though those have only been available for commercial applications, largely due to increased cost. An energy harvesting wiring switch could cost $40 to $50, as opposed to regular switch that costs a couple of bucks at the hardware store. And energy harvesting sensors can cost about $10 more than typical battery-powered sensors, O'Callaghan says. However, he maintains that in a new construction, the savings from not having to pull wire to light switches, for example, could result in savings of 15 percent—and 50 percent to 75 percent in a retrofit.
EnOcean devices send signals in the low-power 315 MHz range in the United States, and in the 868 MHz range in Europe. EnOcean and partner Future Energy Solutions (FES) offer an ESK 300C starter kit in North America for OEMs to evaluate energy harvesting wireless solutions for their applications, and includes a variety of energy converters and RF modules.
EnOcean's technology has also become an ISO/IEC standard (14543-3-10), making its physical (PHY), data link and network layers available to all, while the EnOcean application layers are available by joining the EnOcean Alliance. Developers could use the standard to build proprietary applications, but EnOcean views this offering as a way to extend its technology into home and building automation markets. The standard can be downloaded from www.iso.org.
"We see a larger demand for the lowest-powered sensors," says EnOcean CEO Laurent Giai-Miniet. "It's going to bring some competitiveness, but we're doing this to encourage people to join the EnOcean ecosystem, and it's necessary to grow the ecosystem."