When Laura Bruland of Oakland, Calif., started out making jewelry, fabric was her medium of choice. But soon she had a new muse, courtesy of a co-op laser cutter: old books culled from thrift stores, garage sales and library sales, especially those that were out-dated or falling apart. Using this computer-aided technology, Bruland found that she could create precise designs from the covers of these old books, which then wound up as earrings, necklace pendants and pins.
But now that her company, Yes & Yes Designs, has started to take off, demand for Bruland's recycled designs has outstripped her capacity to create them, as San Francisco's Tech Shop only allows members six hours of access each week to its laser cutter. The upshot? She needs a machine of her own, and they don't come cheap. Laser cutters — which can be used to create anything from architectural models to puzzle boxes and paper doilies —  can run upward of $3,000, and, of course, require studio space to occupy. Hence, Bruland's newly launched Kickstarter campaign.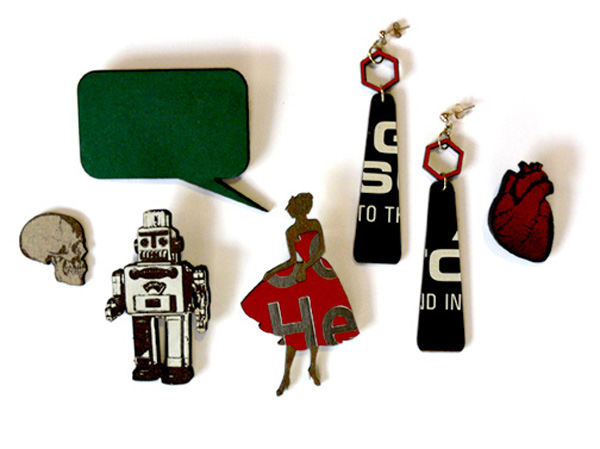 A pledge of $10 will get you a one-of-a-kind Thank You note and three paper butterflies, as well as a Tweet of thanks; $25 will get you that plus a Little Lady pin (pictured below); $40 brings you the whole line of Little Lady pins and matching stud earrings; $60 will get you a personalized necklace; $80 gets you the necklace plus the pin, and at $80 and up, you'll get all kinds of everything (short of the artist's first-born child), culminating in your membership to Bruland's Surprise of the Month Club.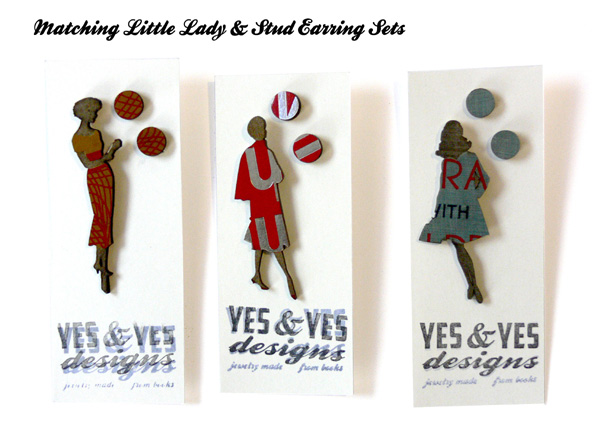 Yes & Yes Designs' jewelry is currently carried at Bay Area retail establishments such as Oaklandish and the SFMOMA Museum Store. Bruland has been interviewed by ReadyMade Magazine, Maker Faire TV, and is featured in Wired magazine's newest project: WIRED d3sign. Should her Kickstarter campaign prove successful, she plans to call her new laser cutter Lucky.