With severely limited financial resources, many cities in the developing world are unsafe simply because they can't afford the things we take for granted, like street lights. In some countries, all work, commerce and foot travel ceases at sundown simply because it isn't safe for people to be walking around after dark. Alternatives to traditional, grid-tied public lighting provide an opportunity for people who live in developing countries to be safe without requiring a lot of high cost infrastructure or energy production. But there aren't many practical options available yet.
To fill this void, Colombian designer Alberto Vasquez created "Flow," a low-cost vertical-axis wind turbine concept made of bamboo. By incorporating a spiraled design and strategically placed LED lights, Vasquez says the lamp could hold the wind from every direction, generating its own energy throughout the night.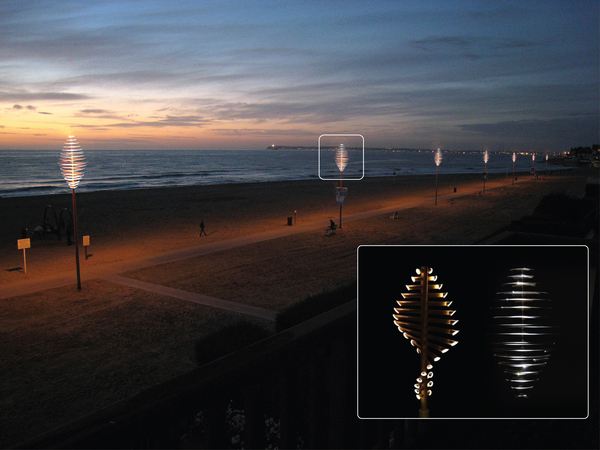 Vasquez says Flow was mainly designed for cities along the Colombian coastline where wind is abundant, but lighting isn't. " I was inspired by a problem that I experienced in Cartagena — a coast-wise city in Colombia. The coast side of the city is busy and safe by day, but in the night it is abandoned and dangerous due to the lack of public lighting, as the grid cannot be transmitted to the shores," writes Vasquez on Behance.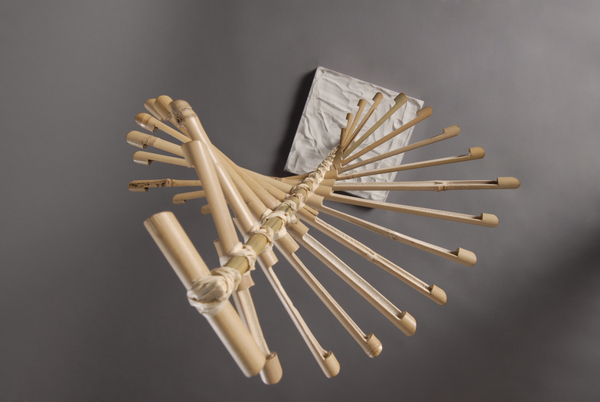 The light sources situated at the ends of the windblades can provide continous lighting surface or slow, waving movements and a beautiful play of light, depending on the speed of the rotation. Because the turbine's simple structure is provided by bamboo, this is seen as a low-cost, low-impact solution that could be assembled by the local, unskilled workforce. The parts that aren't biodegradable — the LEDs, wires and dynamo — can eventually be recycled without downcycling.
Here's a short video of a 3:1 model turbine being assembled by the designer: