This Green Dot design award winner from Designnobis, in Turkey, features an elegantly eco-friendly, foldable catamaran whose primary objective, other than being pleasing to the eyes and sensibilities, is to achieve zero footprint status. Of course it's wind powered—what else would a sailboat be? But it's also solar powered, and it achieves its lightweight profile and resulting superb performance from the use of state-of-the-art materials and construction techniques that reduce hydrodynamic resistance and deliver all-weather navigation.
Called the Foscat 32, and completed in 2009, this concept—composed of a double-layer fiber resin shell, or hull—is designed to excite those who appreciate pure speed, and appeal to those who want to flaunt their ecological savvy by using sustainable resources. One of these is, literally, a solar sail; a 95-square-meter double-layer solar panel affixed to the main mast which feeds energy to two DC 2 (4 horsepower) electrical engines in the hull.
Add to that redesigned propellers to provide extra power, and you have a hybrid sailing vessel that makes the best of both worlds—the traditional one of a cloth sail, and the new one that embraces the power of sunlight. Reminiscent of the Float Solar Catamaran we reported on last May, though not as collapsible, and much smaller than the solar-powered Turanor PlantSolar, the Foscat 32 is clearly in a class of its own.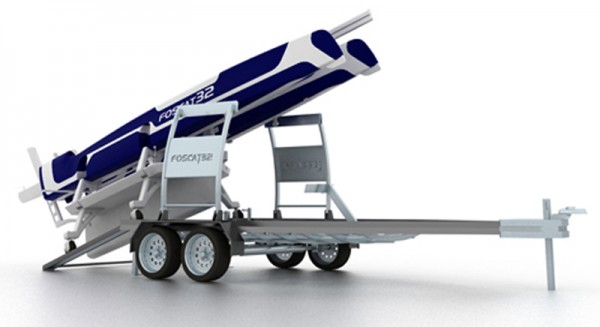 In spite of its speedy nature, the Foscat is easy to handle. It can, in turn, handle any weather that is thrown at it, thanks to the flexibility and strength achieved through the use of a time-honored fiber molding processes that deliver resiliency and stability. This is achieved through the lamination of a carbon-foam core that creates a mirror image of itself, otherwise known as a sandwich panel. The uniquely shaped, aerodynamic hull is then thoroughly coated with epoxy resin and given a final finish of ultraviolet-resistant coating everywhere above the water line. Lastly, the Foscat's rigging has been simplified and its controls designed so that even younger or lightweight individuals can easily handle them, even in a force 4-5 wind.