In today's high-tech world, consumers have come to expect things to be ready for use right out of the box. We don't like long instruction booklets or installation times for our gadgets, and the same is true for our solar panels. Homeowners who have hesitated to invest in a rooftop solar system because it seems to complicated to install will be glad to hear that Westinghouse Solar has launched what it calls the industry's first plug-and-play system.
The Instant Connect solar panel system eliminates cumbersome panel-to-panel wiring for both residential AC systems and commercial DC systems. Instead, Westinghouse incorporated a set of patented electrical connectors that are integrated directly into the sides of each solar panel—allowing the solar panels to automatically plug together when they are mounted on the roof.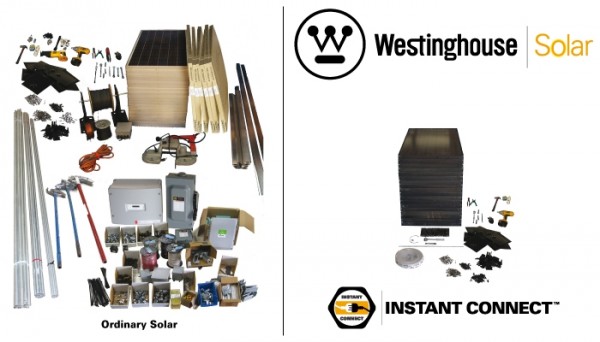 As you can see from the image above, installing normal solar panels means navigating through hundreds of easy-to-lose parts that must be sourced, carried to the roof and manually assembled. According to Westinghouse, the problem is that manufacturers never viewed a rooftop solar installation as a single complete system. Instead, multiple manufacturers supplied their own components to installers who, until now, have had no other choice but to assemble all of these parts themselves.
Another disadvantage of the traditional solar system: because of its complexity, it has required a trained solar technician in order to be sure the installation was done correctly. Westinghouse claims that one of the main benefits of Instant Connect panels is that electricians, HVAC contractors and skilled Do-It-Yourselfers can install a system. Moreover, they can start small—with just one or two panels—and easily add onto the system. If my experience with assemble-it-yourself furniture is any indication, homeowners and contractors everywhere will welcome the smaller, simpler plug-and-play system.