Buyers of the new electric-powered 2012 Mitsubishi i now have an added home charging option available to them—and the chance to get it at a bit of a discount, if they act quickly.
Mitsubishi Motors and AeroVironment have teamed up to offer the installation and support of AeroVironment EV home charging systems. Mitsubishi said it will waive the $99.99 site consultation for the first 2,000 customers to preorder the 2012 Mitsubishi i before April 19.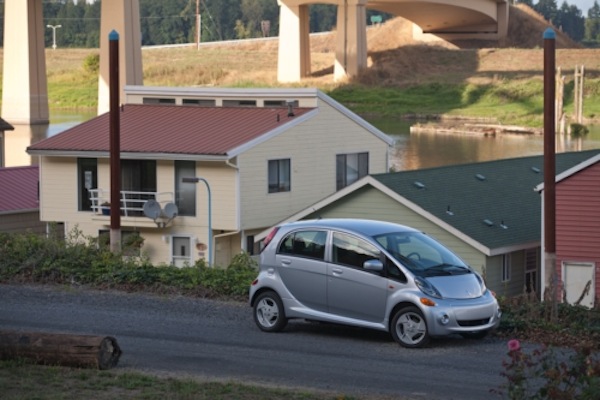 The on-site home consultation includes an analysis of current electrical wiring capacity, recommended station placement and a full breakdown of activities and costs related to installing an electric refueling system.
"The AeroVironment EVSE-RS Level 2 electric vehicle charging system is an easy-to-use, reliable and safe option for Mitsubishi i owners to use for charging their brand-new EVs in their own homes," Yoichi Yokozawa, president & CEO of Mitsubishi Motors North America said in a statement. "AeroVironment has consistently delivered excellent and innovative EV products and services that cover every step of the purchase and installation process."
AeroVironment's Level 2 charging station makes use of a 240-volt line and can recharge a fully depleted Mitsubishi i battery in around seven hours. It also boasts "smart" capabilities that allow it to communicate with a wide area network grid and turn consumers' homes into grid-connected smart charging hubs, Mitsubishi said. AeroVironment also offers a basic Level 1 charging dock that includes a standard plug-in AC cord set.  A full charge with such a system would take up to 22.5 hours, according to Mitsubishi. For public charging the company sells DC fast chargers that can charge a completely empty main lithium-ion battery pack of a 2012 Mitsubishi i to 80 percent full in less than 30 minutes.
Back in 2010 when it announced its intention to sell the Mitsubishi i-MiEV in the U.S., Mitsubishi said it was partnering with electronics retailer Best Buy and hardware company Eaton to offer Level 2 home Chargers for i owners.
Customers can schedule their site consultation by calling the AeroVironment/Mitsubishi Motors reservation hotline at 866-732-3219. More information is also available on the Mitsubishi i website.