It seems fitting that one of the world's top design firms—serving clients ranging from the Beirut International Airport to Panama City, Panama—should have a world-class headquarters building, and that appears to be what Perkins+Will has achieved at 1315 Peachtree Street in Atlanta.
The firm's redo of its headquarters building has been awarded LEED Platinum with a score of 95, "the most of any project in the Northern Hemisphere to date under the 2009 version of LEED for New Construction," the company said. No wonder Rick Fedrizzi, president, CEO and founding chair of the U.S. Green Building Council (USGBC), called it "a showpiece."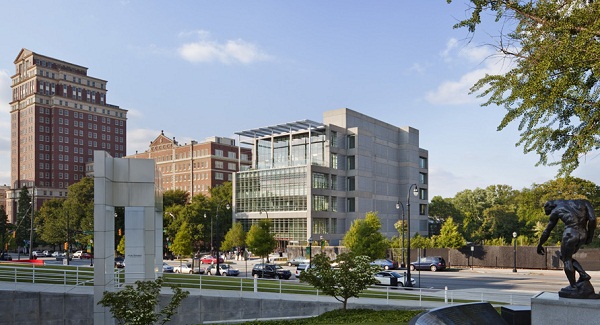 As with most high-scoring LEED projects, increased energy efficiency was a guiding factor in the building's design, but in this case, so was increased quality of life, productivity and creativity for its employees. The retrofit includes an exterior terrace that serves as a lunch, meeting and office social space, while offering employees a garden where they can get in touch with the real green stuff, hands on. Inside, employees enjoy "the latest in workplace design," with workspaces, common areas and multipurpose rooms designed to encourage collaboration that can be easily reconfigured, based on input from staff.
Eco-features include energy-efficient exterior glazing and alterations to the front facade, as well as passive sun shading on lower levels and an active, dynamic exterior sunshade on the building terrace level designed to control afternoon sunlight and heat gain. The building incorporates views and natural daylight in virtually every occupied space, adding to the quality of life for employees while cutting energy bills. Another energy efficiency factor: reduced ambient lighting coupled with the use of LED bulbs.
The building also incorporates raised flooring and a radiant heating and cooling system, the first of its kind in Atlanta.
Microturbines and an adsorption chiller on the building's roof are part of a trigeneration system, which includes a system that produces electricity via natural gas. All told, this reduces the building's carbon footprint by 68 percent, leading the firm's headquarters into compliance with the architecture world's 2030 Challenge for reduced greenhouse gas emissions. The building also makes use of a 10,000-gallon cistern where rainwater is stored, then filtered, treated and re-circulated for landscape irrigation and low-flow urinals and toilets—a key consideration for Atlanta, where water shortages have become an important issue in recent years.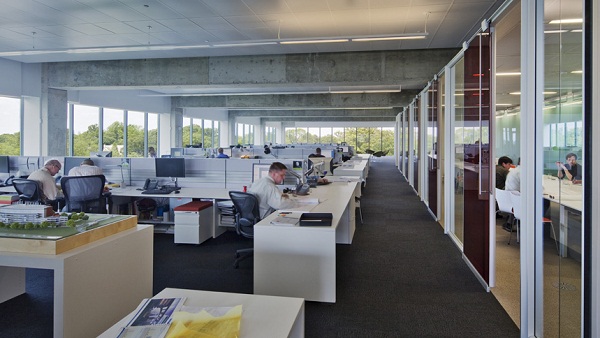 This combination of features has been said to cut the building's energy consumption by 58 percent over a conventionally designed building of similar size, and its municipally supplied potable water use by 78 percent. During construction, 80 percent (630 tons) of debris generated was reused, repurposed, recycled or otherwise diverted from landfills, in part by being donated to 19 local nonprofit groups in need of furniture and materials. This actually spawned what is now a nonprofit resource for repurposing salvaged material for future work in the region, Atlanta's Lifecycle Building Center.
"We set out to make 1315 Peachtree a living model of sustainability and we have been inspired by the results so far," said Willard Lariscy, Perkins+Will principal and managing director, in a statement brought to our attention by Inhabitat. "A 95-point LEED Platinum Certification is another confirmation that we've accomplished our goals, but since it's a living lab, we'll continue to create new goals as we adapt to change and experiment with new ideas."