Georgia isn't a high flyer in solar-power installations, but it's inching along, and like every state it's eager to see industry activity spin off some jobs. A new project being credited with doing just that is a commercial solar array in the town of Ellijay, about 80 miles north of Atlanta.
The 52.8-kilowatt array was installed on the roof at Blue Ridge Mountain Woodcrafts, which makes wholesale award components—parts that go into plaques and the like. The project at the company's manufacturing plant includes more than 200 solar panels that were assembled right in the state of Georgia, according to Solar Energy USA of North Georgia, which did the installation. Mage Solar USA, a subsidiary of Germany-based Mage Group, said the panels came from its Georgia plant.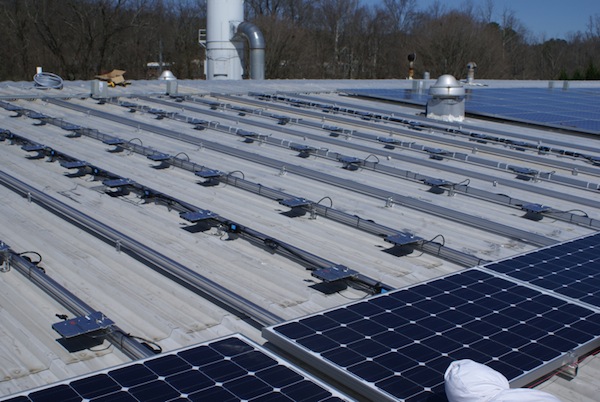 The project took advantage of a state tax credit which covers 35 percent of the cost of installing photovoltaic solar energy systems, Solar Energy USA said, and will generate the equivalent of $12,000 worth of electricity annually.
"In a North Georgia county that has a high unemployment rate, this solar project helped put many Georgians to work manufacturing and installing the panels. And, at the same time, installing this solar energy system will save Blue Ridge Mountain Woodcrafts a bundle of money, allowing them to decrease their fixed costs and continue employing over 30 local workers. These employees buy local products and pay sales tax on local goods and services which helps the Gilmer County economy sustain itself," Brian Linkous, head of Solar Energy USA of North Georgia said in a statement.
Last year, Georgia Gov. Nathan Deal signed a law to raise the state's solar energy tax credit cap from $2.5 million per year to $5 million annually for the years 2012, 2013 and 2014. According to the Georgia Solar Energy Association, Georgia ranks 10th in the country in solar power potential, but in a recent U.S. industry report, the state wasn't even among the top 20 states in installed solar capacity. Georgia was, however, second only to Oregon in solar cell manufacturing capacity, thanks to Suniva, and was sixth in module manufacturing capacity.