Editor's Note: EarthTechling is proud to repost this article courtesy of Green Car Reports. Author credit goes to John Voelcker.
U.S. vehicle sales soared in February, and so did sales of plug-in cars.
A drop in the number of all-electric Nissan Leaf sales was more than offset by a rise in sales of the range-extended electric Chevrolet Volt.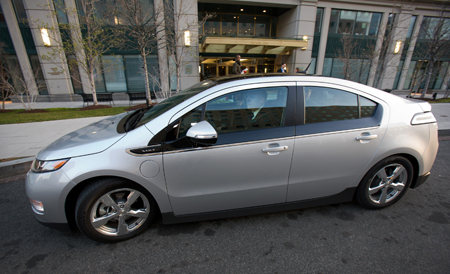 At least 1,500 plug-in cars were sold last month, with totals for the Mitsubishi 'i' and Ford Focus Electric not yet released.
Nissan sold 478 Leaf models in February, a 29-percent decline from the 676 it sold in January.
That brings Leaf sales this year to 1,154, and total Leaf sales since December 2010 to 10,847.
The Leaf is being rolled out nationwide this year, with orders opening up in new states for deliveries by this summer.
Chevrolet sold 1,023 Volt range-extended electric hatchbacks in February, a significant 70-percent boost over the January figure of 603.
In California, the country's prime market for plug-in electric vehicles, Volt sales may have been helped byspecial offers on early 2012 models not eligible for the coveted "green sticker" that permits single-occupant access to High-Occupancy Vehicle lanes.
Eligible 2012 Volt models went on sale in California this week.
Total Volts sold in the U.S. since the car was launched in December 2010 now total 9,623.
Including Tesla Roadsters, sales of which are not reported monthly, more than 21,800 modern plug-in cars have been sold in the U.S. since 2008.
[UPDATE: There were also 44 Mitsubishi 'i' electric minicars sold and, rather to our suprise, even 7 Prius Plug-In Hybrids found buyers on the last day or two of the month–some of the very earliest of that model to land at the first Southern California dealers closest to the ports.]
Next month, we expect to see much higher sales numbers for the latest plug-in vehicle to join the sales charts: the 2012 Toyota Prius Plug-In Hybrid, first models of which arrived at California dealers early this week.