Editor's Note: EarthTechling is proud to repost this article courtesy of ᔥ EcoWatch. Author credit goes to Stefanie Penn Spear.
One of my favorite events of the year is right around the corner—the Cleveland International Film Festival (CIFF) from March 22 to April 1. There are many aspects of the festival I enjoy, but perhaps what I find most valuable is the opportunity to engage in conversation on the plethora of topics addressed in the documentaries shown during the 11-day event.
Though I attend the festival to watch a variety of films, the environmental documentaries are always a favorite of mine. This year,EcoWatch is sponsoring Dirty Energy, which documents the personal stories of those directly affected by the BP oil spill in the Gulf of Mexico and their struggles to rebuild their lives amidst the economic devastation and long-term health risks afflicting the area. Stay tuned to my column during the next two weeks for more details on this documentary and the other It's Easy Being Green films that are playing at this year's CIFF, one of the nation's finest and most attended festivals.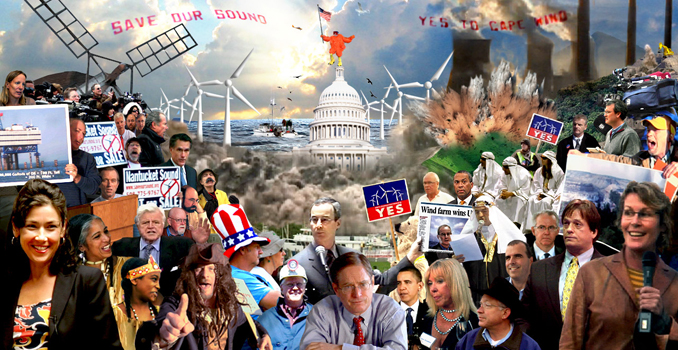 In preparation for my participation in the FilmForum on March 30, I previewed the acclaimed documentary Cape Spin. This film portrays the two sides in the fight over the approved plan for this country's first offshore wind farm which will place 130 wind turbines as tall as 440 feet about ten miles offshore of Nantucket Sound's cherished Horseshoe Shoal which is surrounded by the islands of Martha's Vineyard, Nantucket and Cape Cod.
Cape Spin provides an in-depth look into the well-funded political tug-of-war that has transpired since the original 2001 proposal for Cape Wind's energy project. The two sides combined, as of August 2011, have spent more than $70 million in the struggle over this project. And, with numerous lawsuits pending, challenging rulings on fishing, navigation, endangered species and tribal rights, the costs of this monumental battle are sure to increase.
I've been following the Cape Wind project for years, but this film provided an inside glimpse of what this community has been going through for more than a decade. It's clear to me that proponents of this project, outside of the developer and the people being paid to promote the project, desperately want to see the U.S. transition to a sustainable and secure energy supply, and are willing, for the most part, to support any project regardless of its location and financial beneficiaries. Many of the opponents of this project support a renewable energy future, but refuse to sacrifice the public resource of Nantucket Sound to a privately-owned industrial wind farm that will generate electricity at more than double the average wholesale price at today's rates.
The film illustrates how the unlikely alliances that have formed on both sides further complicate the issue and cloud the debate. Cape Spin is entertaining and does a great job showing the comical side of this fight. However, our energy future is nothing to laugh about. Controversies like the Cape Wind project are being played out across the country where privately-owned industrial-sized renewable energy projects are being proposed or installed on our public lands. There are 17 utility-scale renewable energy projects—nine solar, six wind and two geothermal—representing about 7,000 megawatts that have been given priority status by the Bureau of Land Management.
I don't know if the Cape Wind project will ever be built, but I encourage you to see this thought-provoking film and decide for yourself which side you're on.
Cape Spin will be shown at the CIFF at Tower City Cinema at 230 Huron Rd., Cleveland, Ohio 44113 on the following days:
Thursday, March 29 at 11:45 a.m.
Friday, March 30 at 4:30 p.m. with FilmForum
Saturday, March 31 at 6 p.m.
To purchase tickets to Cape Spin, click here.