Last fall brought news that Toyota would take its LMP1 prototype, featuring a gasoline-electric hybrid powertrain, to the legendary 24 Hours of Le Mans in June. Now, Audi says it will take the Le Mans plunge with a hybrid, too, but with a twist: the car will be a prototype diesel-electric hybrid.
Even before that, the Audi R18 e-tron quattro will make its debut on May 5 at the six-hour race at Spa-Francorchamps in Belgium.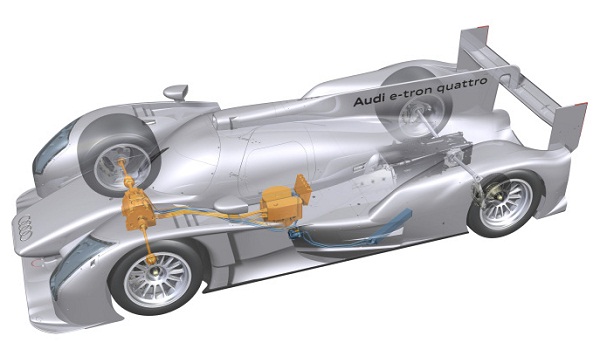 The car uses a TDI (turbocharged direct injection) diesel engine to turn one vehicle axis, and twin electric motors to  turn the other. (There are other e-trons too: Last year, we reported on the introduction of the R8 e-tron sports car.)
One way the e-tron picks up power is by recovering energy that would otherwise be wasted during braking. This is based on the basic principle that slowing down a moving object requires removing energy. Capturing that removed energy is a goal of regenerative braking systems—and the R18 e-tron stores that energy, recovered from the front axle during braking, with what is called a flywheel energy system.
Even when the motor is switched off, the flywheel continues to spin for seconds, minutes, or hours depending on its design and purpose. When you want to recover that energy, the motor acts as a generator which is turned by the freely spinning flywheel. The electricity generated is used to power electric motor(s) in the case of hybrids like these.
One advantage of flywheels is efficiency that can amount to 90 percent.
The four-wheel-drive e-tron quattro contains a V6 engine that produces 375 kilowatts (which is 510 HP) of power that continues to turn the rear wheels. It was brought to the testing stage a mere 18 months after the concept was conceived, which is unusually early.
"This is a relatively short cycle for a technology that has never been tested in motorsport and which still doesn't even exist in production," according to Dr. Martin Mühlmeier, head of technology at Audi Sport. "The challenge is correspondingly big.".
As at this trial in Munich, the e-tron will be evaluated and improved based on it's malfunctions and other shortcomings. There is also an American trial for the e-tron as well. More photographs of the e-tron quattro can be found here.