In late 2011, IBM released its annual Next 5 in 5, a list of the five technological innovations the company thinks will have the biggest impact on society over the next five years. This year, human-generated kinetic energy, or "people power" made a surprise appearance at the top of the list. It's no surprise then that more creative-yet-practical technologies capable of harnessing this energy are appearing on design blogs and renewable energy websites.
The Giraffe Street Lamp on Yanko Design is one such concept that recently caught our attention. Perfect for public parks, court yards or porches, this self-sustaining swing is designed to capture both kinetic and solar energy while in use to provide illumination at night.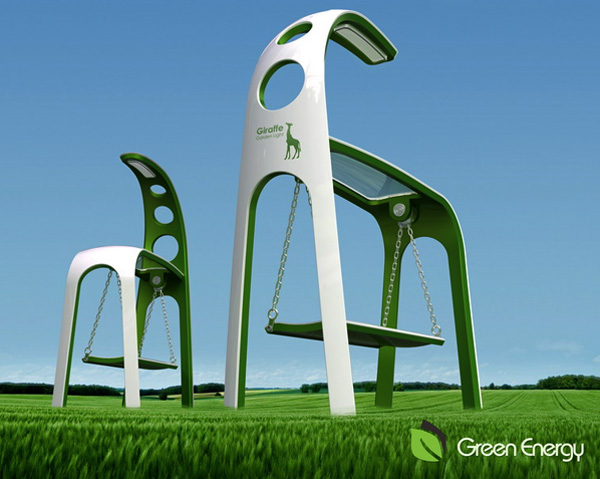 Bearing an undeniable (and somewhat adorable) resemblance to the African mammal for which it is named, the Giraffe Street Lamp harnesses the kinetic energy produced each time someone swings back and forth on its seat. As a backup, the design uses an elevated solar panel hood to soak up more energy, storing it in a battery for later use.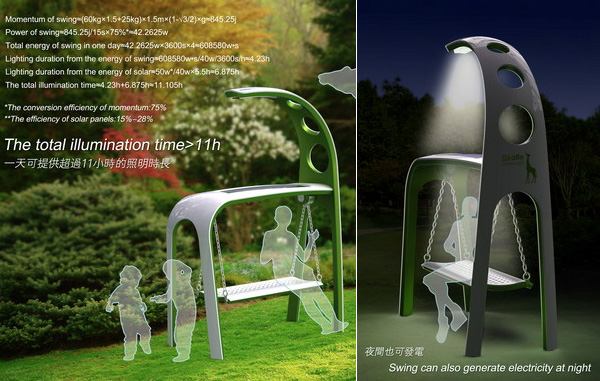 Then, when daylight fades, the swing's build in lamp uses the stored solar and kinetic energy to illuminate a built-in LED lamp, enabling users to enjoy the outdoors long after the sun has set. The designers claim that with the solar panel's 15 to 28 percent efficiency, regular use throughout the day and bright sunlight will allow the structure to store approximately 11 hours of lamp light.
The truly great thing about this design is that there are no wires to run and no unwieldy solar panels to install. Once assembled, the Giraffe Street Lamp and swing combo can be easily moved to suit the needs of the property owner.