Ecotricity is at it again. The U.K. green energy company has built a wind powered electric car, moved to establish an "Electric Highway" with 27 charging stations and developed a concept called "ecobonds" to encourage private citizens to help fund green power projects. Oh, and along the way, company chairman Dale Vince bought himself a football club, the Forest Green Rovers, and banned red meat at the stadium and began spreading manure on the pitch.
So what now? A headlong dive into marine energy with a "radical wave power device called Searaser." In a statement, Vince explained the move:  "Our vision is for Britain's electricity needs to be met entirely from the big three renewable energy sources—the wind, the sun and the sea. Until now, the sea has been the least viable of those three energy sources and we believe that Searaser will change all of that."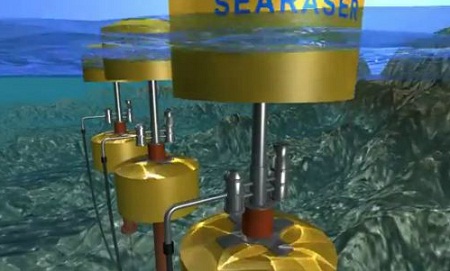 Here's the funky thing about Searaser: It doesn't create electricity out in the water and send it ashore through a power line, like most all of the other wave power devices we write about. Instead, it uses the motion of the ocean swell to pump seawater through an onshore generator. This, according to inventor Alvin Smith, makes it much more resilient in the marine  environment.
"As we know," Smith said, "water and electricity don't mix—and seawater is particularly corrosive—so most other devices are very expensive to manufacture and maintain."
Ecotricity explained that Searaser pumps seawater using a vertical piston between two buoys. One buoys floats on the surface of the water, the other is suspended underwater, tethered to a weight on the seabed. "As the ocean swell moves the buoys up and down, the piston pumps volumes of pressurized seawater through a pipe to an onshore turbine to produce electricity," the company said.
The U.K. Energy and Climate Change Minister Greg Barker welcomed the Ecotricity venture. "It's great news that Ecotricity are now making waves in marine power with their plans for Searaser," Barker said. "The U.K. leads the world in developing marine energy technology and it's vital that the sector continues to bring forward innovative new technologies."
Vince said the company's goal is to have a commercial scale Searaser bopping on the sea within a year and 200 Searaser units around the British coastline within five years.