While renewable energy is on the rise throughout the world, there are still a few firsts to be had. One of which goes to Honduras, which this month is firing up its very first wind power plant, the new 102-megawatt capacity Cerro de Hula Wind Farm. And the country didn't mess around with this foray into wind: According to project contractor Iberdrola Engineering, Cerro de Hula is the largest wind power plant in Central America.
The wind farm is owned by Mesoamerica Energy, which has been involved in a number of renewable energy projects throughout Central America. Iberdrola teamed up with Gamesa on the $200 million "turnkey" construction contract, which comes with two years of maintenance services.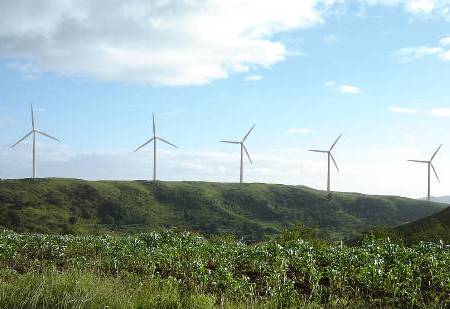 Located about 15 miles south of the Honduran capital city, Tegucigalpa, the 51 Gamesa G87 wind turbines sit on top of the Cerro de Hula and Izopo mountains, each generating up to 2 MW of power. The turbines are scheduled to be in full spin by the end of this month.
The wind farm was properly celebrated with a ceremony as construction began on the project in January 2011. Honduran President Porfirio Lobo Sousa laid the foundation stone for the project, showing the country's commitment to sustainable development and emphasizing that "wind based energy will carry forward the country's progress and be Honduras' response to change in the global community."
The project does indeed present an important advance in energy production for Honduras where, according to Gamesa, 36 percent of the 8 million citizens still live without electricity. With the government's continued support, renewable energy could help close the gap and provide local power for rural communities.