The results are in: The European Wind Energy Association (EWEA) has published its annual offshore wind statistics for 2011. And, although last year trailed slightly behind 2010 in terms of new megawatts installed, it was largely a stable year for the offshore wind industry, with 235 new offshore wind turbines (totaling 866 MW) connected to the grid. Together, the new offshore wind capacity is worth about $3.1 billion.
According to EWEA, 87 percent of all newly installed and grid connected offshore wind power in 2011 was constructed in British waters. Two-thirds of the U.K.'s new offshore wind capacity can be accounted for in the Ormonde and Greater Gabbard offshore wind plants, which were partially completed and commissioned in 2011. That will change this year; Ireland, Scotland and Denmark all have some large offshore wind farms on tap for 2012, but the biggest player this year will be Germany, which accounts for 45 percent of consented offshore wind capacity in the EU.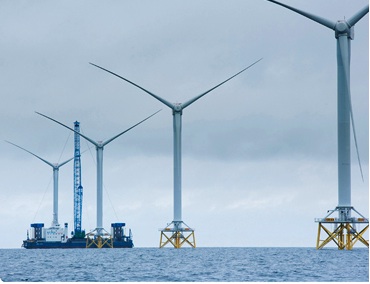 Other trends include an overall increase in the average size of offshore wind farms, and an increase in the water depth. The average offshore wind farm was almost 200 MW—a nearly 29 percent increase over the previous year; and the average water depth in 2011 reached 22.8 meters, substantially more than last year. Interestingly, 2011 also saw the installation of three "floating experimental concepts"—including one grid-connected floating offshore wind farm.
In offshore wind development and finance, the biggest private sector players were SSE, RWE Innogy, and DONG Energy. Siemens continued to show its dominance in the market by manufacturing 80 percent of the offshore wind turbines installed last year.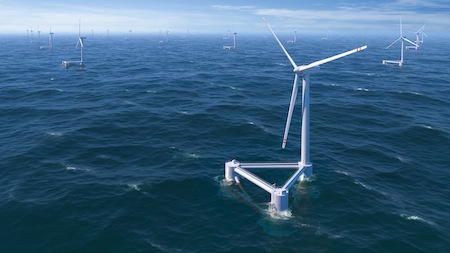 EWEA aims to reach 40,000 MW of installed offshore wind power capacity in the EU by 2020—enough to meet approximately 4 percent of the EU's total electricity consumption. To date, 1,371 offshore turbines are up and connected to the grid, with a total power capacity of 3,813 MW in 53 wind farms in 10 European countries. With nine offshore wind farms now under construction, the numbers confirm what all the analysts have been saying: offshore wind is about to take off. If all goes as planned, the EU's total installed offshore wind power capacity will increase by 2,375 MW, or 62 percent, in 2012.
"The offshore wind sector witnessed a stable market in 2011," said EWEA Policy Director Justin Wilkes said in a statement. "Despite the economy-wide financial squeeze, 2011 saw a 40 percent increase on the previous year in offshore non-recourse debt financing , up from 1.46 billion Euros in 2010 to 2.05 billion Euros in 2011. The strong project pipeline and financial developments highlight the importance of countries continuing to provide and develop stable long-term frameworks for offshore wind power in order to allow the industry to continue its development," he said.
You can read the entire 2011 Trends and Statistics Report here.