In a culture that anguishes and argues about whether the light bulbs it uses cast a sufficiently warm glow, it might be difficult to fathom this global reality, as outlined by the United Nations: "One person in five still lacks access to modern electricity and twice that number – 3 billion people – rely on wood, coal, charcoal or animal waste for cooking and heating."
Against this backdrop, U.N. Secretary-General Ban Ki-moon traveled to the World Future Energy Summit in Abu Dhabi to declare 2012 the "International Year of Sustainable Energy for All."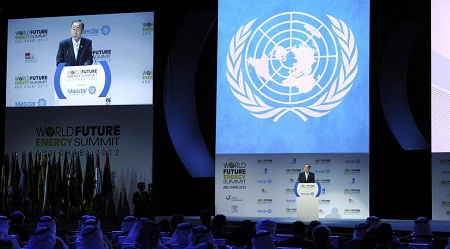 The U.N. actually kicked off the initiative, if not the year, last fall, at the U.N. Private Sector Forum 2011 – a setting that emphasized its belief that the fight to eradicate "energy poverty" won't be solved by governments alone. That made the Abu Dhabi conference a good spot to promote the effort – Worldwatch Institute said the event has "significant and growing participation from the public sector and international NGOs" but is "primarily a business platform for companies, investors, project developers, and buyers."
We've already seen large-scale corporate and NGO efforts taking on the power challenge: Late last year, for instance, IBM said it was teaming with international development charity Practical Action to form Energy Aid, aimed specifically at bringing sustainable power to poeple who use dangerously primitive energy sources. The U.N. is backing that effort, launched by IBM's U.K. division, as are members of Parliament and Start, Prince Charles' effort to promote sustainable living.
In his Abu Dhabi address, Ban emphasized the central nature of energy, and how improving access to it is a key to achieving even more fundamental missions. Energy, he said, "is the golden thread that connects economic growth, increased social equity and preserving the environment," impacting "food security, health, education, transport, communications, water and sanitation."
The U.N. estimates that some 1.4 billion people worldwide have no access to electricity, and another billion suffer with unreliable electrical power. It's many of those people, and more, who rely on inefficient and often unsafe solid fuels such as coal or traditional biomass for their basic cooking and heating.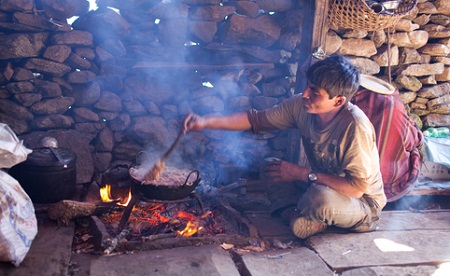 With dirty sources like that so commonly used, it's easy to see how there's a climate-change angle to this effort, as well. "Our goal," Ban said at a news conference after his address, "is to reduce poverty and provide opportunity to all, to drive global economic dynamism and to combat climate change. This is a triple win for tough times."
So what are countries being asked to do? General Assembly President Nassir Abdulaziz Al-Nasser, who was also in Abu Dhabi, laid it out: "It is incumbent upon member states and international organizations to take initiatives that are designed to create an environment that will foster access to energy and energy-related services and the use of new and renewable energy technologies," he stated. "They should also promote innovation and strengthen employment and investment opportunities in order to keep abreast of the growing need for sustainable energy."