The Toyota 2000GT is a classic for many reasons. The front-engine, rear-wheel drive, two-seat, hardtop coupé was built between 1967-1970 and only 351 ever saw the street. But those low-slung machines could really move. Powered by a 2.0-liter in-line six cylinder engine, the 2000GT made 150 horsepower and was good for 135 mph and 31 mpg. Those numbers were good enough to earn the 2000GT a high-profile in the 1967 James Bond flick, You Only Live Twice. These days, the Toyota is seen as the first collectible Japanese-made supercar and has sold at auction for as much as $375,000.
So what's the best thing to do with an icon? Update it of course. Toyota's Crazy Car Project recently rebuilt one of the rare 2000GTs as a solar electric vehicle for display at the 2012 Tokyo Auto Salon.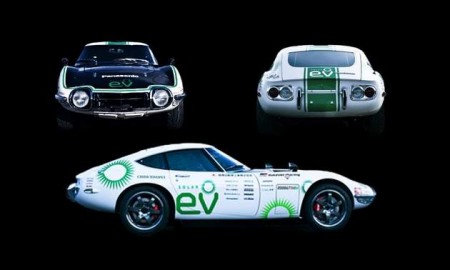 Toyota yanked that in-line six and replaced with a 161-horsepower electric motor. But why stop there? They also integrated solar panels into the roof and hood of the car which feed the 2000GT's 35 kW lithium-ion battery pack. Toyota says that the new power pack is good for a top speed of 125 mph, a great mark for an electric car pushing a 45-year-old chassis.
Inside the next-gen, retro-future EV, Toyota used a bio-material called Alcanntara, which is used as a flame-retardant driver seat covering material for Formula One race cars. The cars panels are lacquer painted and coated with gold and silver. The instrument cluster was also updated. Toyota attempted to maintain the car's original look and feel, but updated the gauges to display not only speed but also battery level. The update also includes a rear view mirror which displays images via a rear-mounted video camera.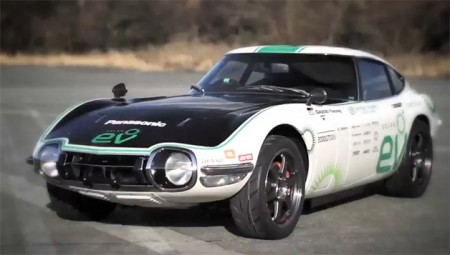 But that wasn't enough for Toyota. One of the most iconic things about the classic 2000GT was it's engine sound, a raw, throaty growl that's instantly recognizable to hardcore fans. Since electric vehicles run silently, the Crazy Car project replicated the engine sound of the original car. They've also added what they call "crazy sounds" to the Toyota's repertoire, including a horse galloping, a rocket or an aircraft.