Well, it's 2012, and we still don't have flying cars, robots maids or law enforcement agencies that can arrest criminals before they commit a crime based on predictions from psychics. But we do happen to have some pretty cool designs in the works that incorporate solar power and can make our world look a little more futuristic.
Designs that incorporate solar panels are nothing new. At EarthTechling, we've featured a host of such solar gadgets, from public art pieces that light up with the help of solar panels and are meant to capture the imaginations of viewers, to functional and attractive solar chargers in the shape of bonsai trees. But now, Voda Design has come up with a multifunctional solar bench, on which to sit and ponder the future.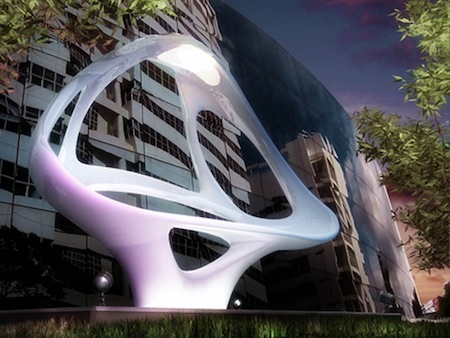 Voda Design, an industrial and interior designer out of Ukraine, is showcasing their Solar Bench design on Behance Newtork, a platform where design professionals can share their creative musings. The Solar Bench is a rather simple concept that combines a street light, a bench and a multimedia center all in one. Energy for the bench is provided by solar batteries (charged by a solar panel, it appears) built into the bench case.
The great part about that is it can stand alone on any street corner without having to be tied to city power stations or the electrical grid at all. The energy generated by the batteries can be used in the daytime for charging a laptop or listening to an MP3 player when the lamp is not in use. The bench includes a control panel with all of the needed outlets (electrical sockets, USB ports) on the sides of the bench case.
Of course, Voda's isn't the first solar bench design we've seen. Back in 2009, designers Seon-Keun Park, Byung-Min Woo and Owen Song came up with a solar bench that was featured on Treehugger.com. Their bench was made of thin solar film meant to work under multiple weather conditions. In addition to providing a glowing night light in the dark, the bench also came equipped with a Wi-Fi hot spot.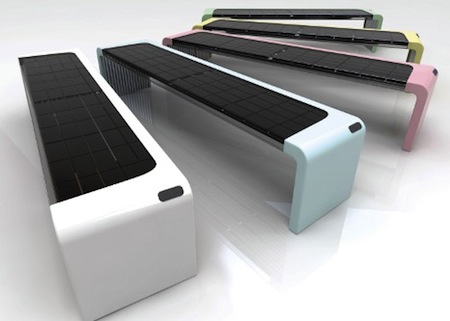 There is no mention of a Wi-Fi spot on Voda's bench, but when it comes to futuristic designs, Voda's design might just make up for that oversight. Made of all plastic and reminiscent of some sort of futuristic pod that could at any moment transport you to another time dimension, it's enough to make you feel better about not being able to fly to the store in a saucer-shaped space car.