Located 60 miles east downtown LA in the sprawling Southern California megalopolis, the city of Riverside is known as the birthplace of the California citrus industry: Its hot, sunny Mediterranean climate was the perfect place to begin planting orange trees way back in the 1870s. These days, unfortunately, Riverside is also known for its smog.
Riverside sits in what's known as a "smog belt." The Riverside-San Bernardino-Ontario area was found to be one of the most polluted regions based on year-round particle measurements when compared to other U.S. cities. Most of Riverside's smog problems are the result of the prevailing westerlies that blow the smog from L.A. and particulates generated by Southern California's huge number of vehicles, into the area, where they're trapped by the San Bernardino Mountains to the east.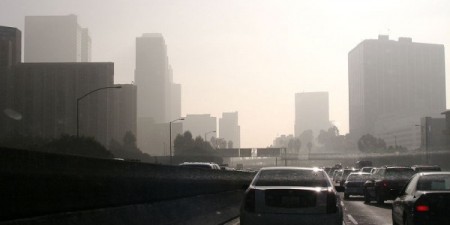 Despite smog problems, the city has made efforts to reduce pollution by incorporating additional means of mass transit and equipping its entire fleet of buses with natural gas. Smog has decreased considerably over the past years as local municipalities and counties work with the South Coast Air Quality Management District to implement measures to improve regional air quality.
Now, the city is getting another weapon in its arsenal to combat pollution: a $2 million, two-year project that will build solar arrays, advanced battery storage, vehicle charging stations, an electric trolley and a grid management system to provide clean energy to clean vehicles efficiently – and help give the city more days like the sparkling one pictured below.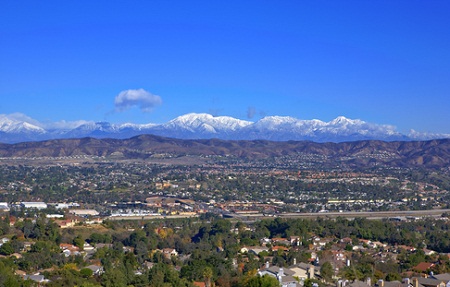 The funding, supported by the South Coast Air Quality Management District and involving a number of public and private partners, will allow the University of California to install up to 2 megawatts of solar arrays and 2 megawatt-hours of lithium battery storage systems at three locations on and near the UC Riverside campus. The solar energy will be used to charge vehicles directly at several sites on campus and additional sites throughout Riverside.
The university will also partner with the city of Riverside and Riverside Public Utilities, to design scalable methods to direct the solar energy that they harvest to their electric vehicle charging stations in a way that minimizes the load on the region's power grid.
Not everything involved in the project involves cutting edge solar arrays and high-tech smart grid solutions, however. The project will also convert a trolley from diesel to electric power to shuttle the university's 20,000 students and area residents around UC Riverside.