Just weeks after Scotland celebrated a record-breaking year for renewable energy, Energy Minister Fergus Ewing is promising that 2012 will be even better. In the first three quarters of 2011 alone, Scotland generated 94 percent of the amount of renewable energy generated in all of 2010. Figures released by the Scottish Department for Energy and Climate Change (DECC) in December showed that £750 million was invested in renewable energy in Scotland through Oct. 2011, and that the country currently has 7 gigawatts (GW) of renewable energy projects in operation, or under development.
But the government is now saying that Scotland has 17 GW of generating capacity on deck – scheduled to deliver an estimated £46 billion in renewable energy investment in 2012. The number and scale of renewable energy projects in the pipeline indicate that 2012 could be another record-shattering year. "[The DECC] figures show that 2011 has been a spectacular year for renewable energy in Scotland," Ewing said. "I am relentlessly positive for 2012, and firmly believe we will build on 2011's successes to make it an even better year.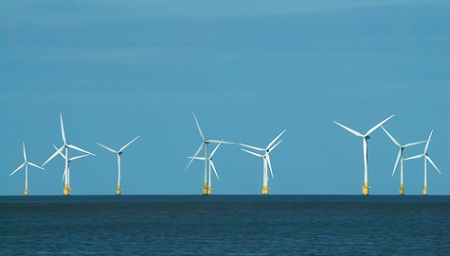 This year is already shaping up to be a productive one for Scotland's renewable energy industry in other ways as well. In April, the Scottish government plans to launch a "community benefit register," which will help communities (like this one) maximize the benefits of renewable energy projects.  Currently, most large-scale commercial developers are expected to pay community benefits fees when they develop renewable energy projects. These funds have enabled communities to invest in a variety of projects, such as improving energy efficiency in local homes and schools. The register will enable communities to share details of their benefits agreements across Scotland, helping other communities make more informed negotiations, and better reap the benefits of renewable energy development.
"Renewable energy provides an opportunity to reindustrialize Scotland, and I am working with colleagues to ensure we help our young people obtain the skills they need to gain high quality jobs in this sector, as well as working with the oil and gas sector to ensure we transfer the valuable skills and knowledge of years of experience to the renewable energy sector," Ewing said. "My new year's resolution is to continue to do everything in my power to further Scotland's reputation as a global green energy powerhouse in 2012."
The DECC figures also showed that Scotland was on track to meet its interim target of generating 31 percent of its electricity from renewable resources by 2011. By 2020, Scotland aims to generate 100 percent (about 16 GW) of its electricity needs from renewables.