Pakistan starts 2012 on a slightly brighter note after a year of recovering from the worst floods in the country's history in 2010 (while continuing to endure high levels of terrorism-related violence). As part of the effort to rebuild, sunny days and solar panels and multipurpose lights are providing reliable and much needed electricity for schools and rural areas of Pakistan that have been without electricity since the floods.
Plan International Pakistan and the Punjab education department have rehabilitated nearly 400 schools destroyed by floods, and implemented solar power in 250 schools that did not have electricity. Funded by the United Kingdom's Department for International Development (DFID), the project piloted the first use of solar technology in the UK's disaster response. In addition to the solar panel installation, the project also provided water and sanitation, school furniture, school paper, schoolbags and uniforms, sports equipment and health education for 54,000 primary school children.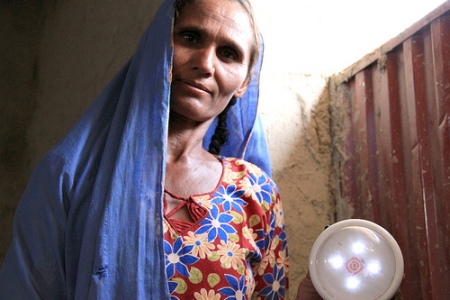 In addition to powering up the schools, aid from the U.K.'s DFID also provided multipurpose solar light units to people across rural southern Pakistan who have been without power since the floods and were relying on candles, kerosene oil and rechargeable flashlights for light. The solar unites provide free and sustainable light for up to 10 hours after charged and last up to five years. But beyond providing light, the units can also be used to recharge mobile phones, which play a critical role in helping displaced families and communities stay connected in areas where landline phones are rare.
Marvi (pictured above), a woman living in southern Pakistan with her seven children, explained to aid officials how the solar units were benefiting her family: "I use the solar light for cooking at night," she explains. "We save money because we had to buy candles and kerosene before. We also use it to charge our mobile phones."