President Obama's State of the Union speech last night outlined some ambitious clean energy goals, though when compared to last year they seem less aggressive. This time in 2011, a jubilant Obama hit on wide ranging cleantech ideals including breaking dependence upon oil with biofuels; becoming the first nation to have a million electric vehicles on the road by 2015; having 80 percent of America's electricity come from clean energy sources by 2035; and, within 25 years, giving 80 percent of Americans access to high-speed rail.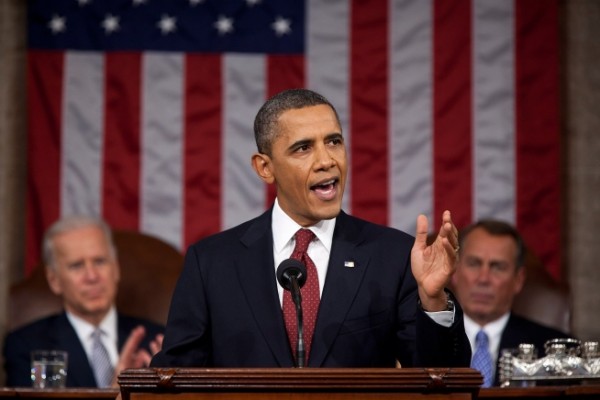 This year, however, a much more battled hardened president up for reelection and burdened by issues like the Solydnra bankruptcy and subsequent fall out seemed to narrow his focus:
Now, what's true for natural gas is just as true for clean energy.  In three years, our partnership with the private sector has already positioned America to be the world's leading manufacturer of high-tech batteries.  Because of federal investments, renewable energy use has nearly doubled, and thousands of Americans have jobs because of it.
When Bryan Ritterby was laid off from his job making furniture, he said he worried that at 55, no one would give him a second chance.  But he found work at Energetx, a wind turbine manufacturer in Michigan.  Before the recession, the factory only made luxury yachts.  Today, it's hiring workers like Bryan, who said, "I'm proud to be working in the industry of the future."
Our experience with shale gas, our experience with natural gas, shows us that the payoffs on these public investments don't always come right away.  Some technologies don't pan out; some companies fail.  But I will not walk away from the promise of clean energy.  I will not walk away from workers like Bryan.  I will not cede the wind or solar or battery industry to China or Germany because we refuse to make the same commitment here.
We've subsidized oil companies for a century.  That's long enough.  It's time to end the taxpayer giveaways to an industry that rarely has been more profitable, and double-down on a clean energy industry that never has been more promising.  Pass clean energy tax credits.  Create these jobs.
We can also spur energy innovation with new incentives.  The differences in this chamber may be too deep right now to pass a comprehensive plan to fight climate change.  But there's no reason why Congress shouldn't at least set a clean energy standard that creates a market for innovation.  So far, you haven't acted.  Well, tonight, I will.  I'm directing my administration to allow the development of clean energy on enough public land to power 3 million homes.  And I'm proud to announce that the Department of Defense, working with us, the world's largest consumer of energy, will make one of the largest commitments to clean energy in history -– with the Navy purchasing enough capacity to power a quarter of a million homes a year.
Of course, the easiest way to save money is to waste less energy.  So here's a proposal:  Help manufacturers eliminate energy waste in their factories and give businesses incentives to upgrade their buildings.  Their energy bills will be $100 billion lower over the next decade, and America will have less pollution, more manufacturing, more jobs for construction workers who need them.  Send me a bill that creates these jobs.
As for specifics on what this means for the president's action items, a look at the White House's Blueprint For An America Built To Last highlights:
Incentivize manufacturers to make energy upgrades, saving $100 billion over the next decade: The President announced a new proposal to increase the energy efficiency of the industrial sector by providing new incentives and breaking down regulatory barriers for manufacturers to upgrade equipment and eliminate wasted energy in their facilities, saving $100 billion from the nation's energy bills and reducing the amount of energy we import from foreign countries.
Create clean energy jobs in the United States: The President called on Congress to build on our success in positioning America to be the world's leading manufacturer in high-tech batteries and reiterated his call for action on clean energy tax credits and a national goal of moving toward clean sources of electricity by setting a standard for utility companies, so that by 2035, 80% of the nation's electricity will come from clean sources, including renewable energy sources like wind, solar, biomass, hydropower, nuclear power, efficient natural gas, and clean coal. Because Congress has not yet acted on this and other key steps to achieve a clean energy economy, the President announced that the Department of the Navy will make the largest renewable energy purchase in history – one gigawatt.  In addition, the President is directing the Department of Interior to permit 10 gigawatts of renewables projects by the end of the year, enough to power three million homes.
Clean energy industry reaction to Obama's speech was pretty positive. The American Wind Energy Association, while happy to know the president still supported renewable power, called one again for a renewal of expiring Production Tax Credits. The Solar Energy Industries Association, supportive as well, pointed out that "there are more than 5,600 companies in the U.S. solar market creating jobs, driving private investment and exporting goods around the world."