In the North Sea, energy developers are hoping to take advantage of the clustering of wind farms to make the process of bringing power to the grid more efficient. One result of that streamlining strategy will be some impressively large structures. And none, apparently, will be bigger than the platform that Drydocks World has won a contract to build in Dubai.
The length of a football field and 80 yards wide, the platform – dubbed, variously, Dolwin 2 and Dolwin Beta – will receive alternating current power from several offshore wind plants and convert it to direct current before sending it ashore through cables laid along the sea floor. The energy news site Recharge called it "the world's biggest offshore wind platform."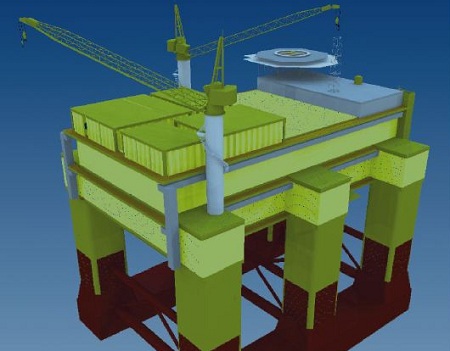 Drydocks will build the platform for the Norwegian company Aibel, and expects to make delivery to Aibel's yard in Haugesund, Norway, around December 2013. Once there it will then be fully outfitted for placement near Helgoland in the German sector of the North Sea.
Drydocks World might sound like someone's very strange idea of an amusement park, where dredgers and jack-up rigs – maybe even ultra large crude carriers! – dazzle the kiddies, but actually it's a ship building, repair and service yard. (It's also a subsidiary of Dubai World, the investment firm that ran into big trouble with debt in 2009, which among other things has forced Drydocks World to undergo a major restructuring. But that's a whole other story.)
In addition to Drydocks and Aibel, another big player in the DolWin 2 platform project is ABB, which won a contract from the Northern European grid giant TenneT to design, engineer, supply and actually install the offshore platform, as well as the offshore and onshore converter stations and the land and sea cable systems that will bring power to Germany's grid. Gode Wind II, a 400-megawatt (MW) capacity plant in the North Sea, will be the main power generator, but the high-voltage direct current (HVDC) system going in will be rated at more than 900 MW, allowing for connection to additional plants.
In addition to the AC cables connecting the wind farms to the converting station, linking up the entire system will require more than 25 miles of of DC sea cable and nearly 60 miles of land cable to the HVDC onshore station at the grid connection point at Dörpen-West, Germany.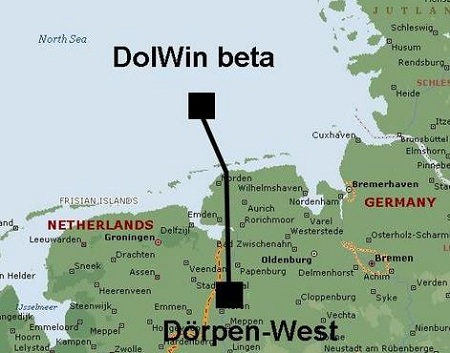 At 900 MW at ±320 kilovolts it will be the world's largest offshore HVDC system. The companies involved say it will offer "numerous environmental benefits, such as electrical losses of less than 1 percent per converter station, neutral electromagnetic fields, and compact converter stations. It is ideal for connecting remote wind farms to mainland networks without distance limitations or constraints on the grid."
The North Sea has become a hot-spot for wind development, with Great Britain, Belgium, Denmark, Norway and the Netherlands all seeing it as a site for offshore production. A recent European Union report said that if countries bordering the North Sea went ahead and enacted their current renewable energy plans, they would increase Europe's wind power capacity by 32 gigawatts (GW) by 2020, and could even potentially continue to install another 100 GW by 2o3o, much of it in the North Sea.