Its designer calls it a rolling smart phone, it looks like an overgrown in-line skate and what it does is actually quite amazing.
Somewhere in a lab in San Francisco a team of engineers is hard at work on the Lit C-1, scrambling to get a working, drivable prototype of their remarkable vehicle ready by this spring. From the outside the C-1 looks like a tiny urban electric commuter concept car, but give it a closer look and you notice that the thing only has two wheels and that it's balancing itself.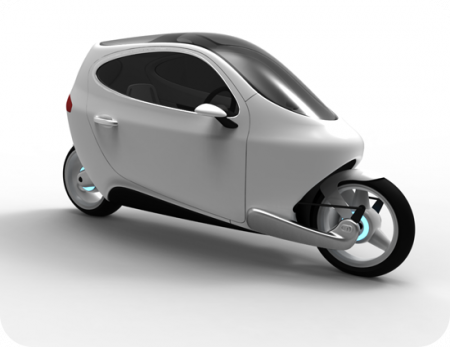 The brainchild of Lit Motors CEO Daniel Kim, the C-1 is a fully enclosed, two-passenger electric motorbike with an electronically controlled gyroscopic stabilizing system that allows the two-wheeler to stand upright even when stopped. Better yet, the stabilizer actually resists tipping, making it much more stable at speed, in turns and when bumped or knocked.
According to a Gizmag report, the C-1 uses a flywheel based system for stabilization. Located under the floor of the vehicle, the flywheels will spin, generating more than 1,300 pound-feet of stabilizing torque. This spinning force is the same principle that keeps a top upright and in the C-1's patented system, driver input is processed to adjust the spin axes of the flywheel to assist in turning. Thanks to the gyroscopic effect, the bike is not only more stable than a motorcycle, it's almost impossible to knock over.
But the C-1 is more than just a one-trick gyroscopic pony. The vehicle is packed with innovative technology, including what Lit calls its Kinetic Energy Recovery System which uses regenerative braking technology to assist in spinning the flywheels. When the C-1 is accelerating, energy from the flywheels is used to alleviate power strain on the batteries.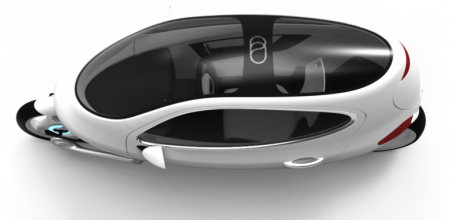 The C-1 will be powered by a battery pack rated between 8-10 kilowatt-hours. That array will power an electric hub motor, possibly manufactured by Remy, in each wheel. Lit says this combo will be good for a top speed of around 120 mph and a zero-to-60 time of between 6-8 seconds. Depending on the size of the final battery configuration the C-1 should have a range of around 150 miles.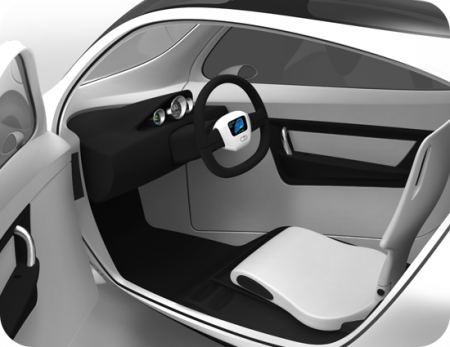 Inside, the vehicle looks fairly bare-bones; however, the standard motorcycle handlebar has been replaced by the steering wheel and the C-1 does appear to have a car-like dashboard instrument cluster and brake/accelerator foot pedals.
Lit hopes to get the C-1 into production by 2014 when it will carry a price tag of around $16,000. Want one? The company is taking reservations (for a $250 deposit) on its website.