More than 100 million people live within 500 miles of each other in the Midwest-Great Lakes economic region and at rush hour, it can seem like they are all on the road at the same time. To help alleviate that congestion, trim the massive amount of energy used to move all those people in single-driver cars, generate jobs and clean the environment, the federal government is investing in light-rail in a big way.
The U.S. Department of Transportation (DOT) has already invested more than $1.4 billion dollars to create an extensive light-rail network in the region and now, thanks to a baffling move by the state of Florida, Illinois is about to receive another $186 million to supplement one of the network's main corridors, a high-speed line reaching from Chicago to St. Louis.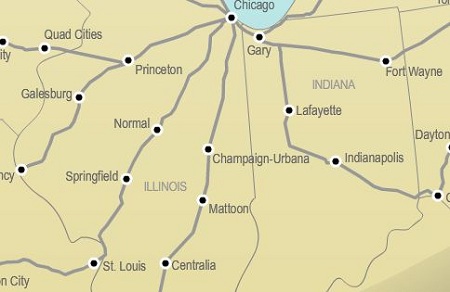 So how did Illinois benefit from a Florida blunder?  The federal government is betting big on light rail, already investing billions across the county to create a more accessible and speedier passenger rail network. The hope is this investment will make high-speed rail accessible to 80 percent of Americans within 25 years while also bolstering the country's infrastructure, adding much-needed jobs while also reducing energy consumption, travel times and environmental impacts. Back in February 2011, when the DOT was handing out grants for the national rail system, newly elected Republican Governor Rick Scott, at the time facing almost 12 percent unemployment in his state, turned down more than $2 billion for a planned high-speed link between Tampa and Orlando. Fellow Florida Republican and chairman of the House Transportation and Infrastructure Committee John Mica said the decision "defies logic."
This isn't the first time Illinois has benefited from another state's mystifying rejection of federal high-speed rail dollars. As Earthtechling has reported, Illinois was the eager recipient of $42.3 million in high-speed rail funding that was rejected by the governors of Ohio and Wisconsin. Illinois expects to add up to 6,000 jobs related to the project.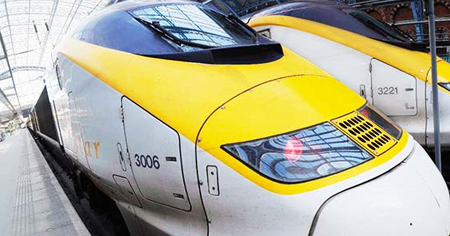 This is all good news in Illinois where the windfall will be used to start work this spring on a 70-mile extension reaching to Joliet, outside of Chicago. The new work will allow for trains to travel at up to speeds of 110 mph along nearly 70 percent of the route from Chicago to St. Louis. When the new network is complete, the 284-mile trip between the two cities could take less than four hours.
This comes at an opportune time, as Amtrak reports that ridership has increased by 137 percent in the past five years between St. Louis and Chicago. The corridor will also benefit from next-generation American-made trains, funded as part of a previously announced $782 million grant. States will purchase 33 quick-acceleration locomotives and 120 bilevel passenger cars to operate in Illinois, Indiana, Michigan, Iowa, Missouri, California, Washington and Oregon.