From his base at Middle Tennessee State University, professor Cliff Ricketts has been studying alternative fuels for close to 35 years. He originally got interested in the topic during the 1978 Iranian hostage situation and resulting energy crisis when it was feared that American farmers might not have fuel to harvest their crops. Since then, he's been involved in just about every aspect of the alternative fuel revolution.
He originally started experimenting with ethanol, then moved on to methane that had been derived from cow manure, then to biodiesel. In 1987, he was able start a Briggs & Stratton engine with hydrogen that had been obtained from a process called electrolysis. Subsequent research led to the development of a car that set a land speed record for hydrogen-powered vehicles on Utah's Bonneville Salt Flats in 1992, a record that stood for 15 years.
Now, Ricketts is about to put it all together in a cross country trip powered by solar, hydrogen and ethanol thanks, in part, to a $15,000 grant from Farm Credit Services of Mid-America. That grant triggered matching funds from MTSU and will allow Ricketts and a group of students to undertake a cross country spring break trip from Savannah, GA to Long Beach, California.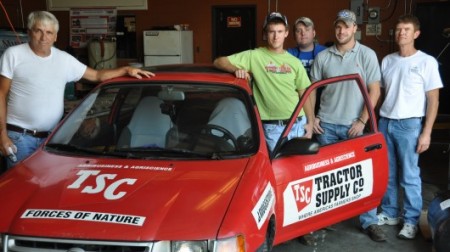 The trip will begin in early March in Savannah, GA in a converted Toyota Prius plug-in hybrid. On each 750-mile leg of the trip, the first 100 miles will be powered by solar energy, followed by 200 miles of hydrogen gas power. The next 350 miles will be fueled by 85 percent cellulosic ethanol, with the last 100 miles coming from on-board regeneration of the solar-powered batteries.
Then the car will be refilled with hydrogen and re-charged solar batteries from an accompanying mobile refueling station that is loaded on a truck and trailer manned by the students. Five days later, Rickets hopes, the car and support crew will roll into Long Beach, CA.
"I figure we'll average about 60 miles per hour," said Ricketts. "A car powered by hydrogen runs just as well as one powered by gasoline."
But this year's cross country trip is not all Ricketts has in the works. For 2013, he hopes to make the same trip using a vehicle powered only by sunlight and water-derived hydrogen.
These aren't the first long-distance trips Professor Ricketts has made in alt fuel vehicles. In 2010 he drove from Bristol, Virginia to West Memphis, Arkansas in a converted 1994 Toyota Tercel that runs on hydrogen derived solely from water using electricity through the process of electrolysis.