While great strides are being made to recycle obsolete electronics, often called e-waste, the amount expected to be thrown away is still expected to double in the next 15 years. That's the latest news from a study out by Colorado-based clean-energy analyst Pike Research.
The Pike study forecasts the amount of e-waste rising from 676 million cubic feet in 2010 to 1,465 million cubic feet by 2025. During that same time, the study anticipated an uptick in the amount of electronics being recycled, from 122 million cubic feet per year in 2010 to 789 million cubic feet by 2025. And, by 2020 it says more electronics will be recycled than will become e-waste. Unfortunately the problem will not be completely solved as the total volume of e-waste going into landfills will continue to climb throughout those years.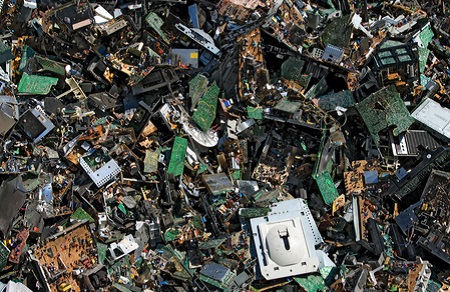 "Electronics recycling and reuse is expanding at a significant rate," industry analyst Bob Boggio said in a statement. "The growth in responsible disposition of obsolete electronics is being driven both by environmental legislation around the world as well as the sustainability and corporate social responsibility (CSR) programs of leading electronics manufacturers and service providers."
E-waste has been known to be shipped by boat to developing countries like Africa to be dumped and left to be scavenged for parts. This can lead to a number of health issues from harmful metals left in the electronics.  The Pike study discusses not only e-scrap statistics, but issues facing the electronics industry, legislative issues and environmental concerns.