The falling price of photovoltaics (PV) has put many concentrating solar power (CSP) projects on the chopping block. Last year, Pike Research noted that 6.9 gigawatts (GW) of CSP capacity had been awarded, but just 1.5 GW were under construction. (CSP plants backed by federal loan guarantees, like the Mojave Solar Project, are still moving forward.)
To help lower the cost of CSP technologies, Energy Secretary Steven Chu announced two new opportunities for solar energy researchers as part of the U.S. Department of Energy's (DOE) SunShot Initiative, including up to $10 million in funding to support the development of advanced heat transfer fluids for concentrating solar power (CSP) systems. The DOE hopes that this research will help drive down the cost of solar power, accelerate the commercialization of CSP technology, and prepare a new generation of scientists and engineers to become solar industry leaders.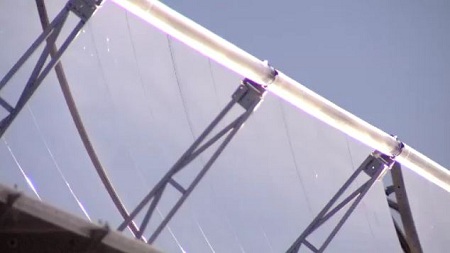 The most common types of CSP plants use mirrors to focus sunlight, heat a fluid, and generate steam. The steam then spins a turbine to generate electricity. The SunShot Initiative aims to dramatically decrease the total costs of solar energy by 75 percent before the end of the decade.
In the case of CSP technology, the Multidisciplinary University Research Initiative: High Operating Temperature Fluids funding opportunity will focus specifically on increasing the efficiency of CSP technology by developing heat transfer fluids that are more stable than current technologies at temperatures greater than 800 degrees Celsius.
The new solicitation follows last year's $60 million in DOE funding for nearly two dozen projects aimed at making significant technological improvements across all four major subsystems of CSP—collector field, receiver, thermal storage and power block.
In addition to the CSP solicitation, Chu also announced the opening of the second round of the SunShot Initiative postdoctoral research awards, offered by the Office of Energy Efficiency and Renewable Energy (EERE).  These awards will provide U.S. scientists with access to training opportunities with top scientists in their field, and state-of-the-art laboratory equipment for applied research at universities, national laboratories, and other research facilities.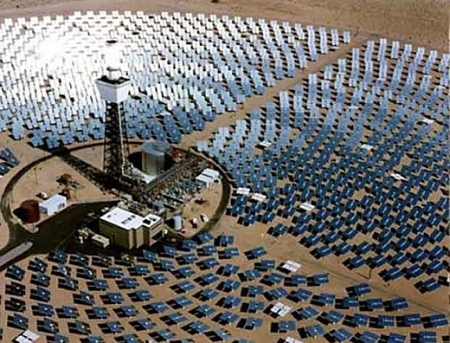 Recipients will also have the opportunity to participate in the United States-Australia Solar Energy Collaboration research exchange program. This opportunity enables U.S. scientists to conduct research under the mentorship of Australian scientists in Australian solar research laboratories, and vice versa.
"In the spirit of our nation's long legacy of innovation, researchers at America's universities continue to make breakthroughs that revolutionize how the world uses energy," Secretary Chu said in a statement. "These university-based research opportunities represent important investments that will advance key solar technologies and foster the next generation of scientists, engineers, and entrepreneurs in solar energy."