Another home energy management company looking to make a splash at CES 2012 this year is Wireless Glue Networks. It is showcasing at the electronics trade show its new, second-generation in-home display device called SmartLook.
SmartLook, similar to other home energy management displays, is designed to provide energy consumption information in the home to consumers at a glance. Wireless Glue Networks notes this device, working with a smart meter, can give utility customers real-time data on energy usage habits.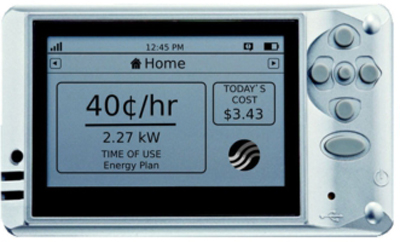 Manufactured by electronic components company Hosiden, the SmartLook is over the air upgradeable and can store historical energy data use for later viewing. One can view as well pricing data as it is broadcast by the utility directly to the smart meter, seeing what the costs of current energy are so one can plan accordingly with regards to electrical consumption for the day.
This offering from Wireless Glue Networks is being dropped into a home energy management market which, despite some optimism, is on a rocky road at the moment. GE, for example, has been forced to refocus its plans in this space after a much promoted project last year has seen considerably slow roll out due to a number of factors.