With the car world gathered in Detroit this week, what was Kia doing in Las Vegas? Showing off its new electric vehicle (EV) wares at the 2012 Consumer Electronics Show, that's what – the theory apparently being that if it plugs in, CES is the place to be (even though Microsoft no longer seems to think so).
The concept EV the company brought to Vegas – called Naimo – of course won't be in production anytime soon, if ever, and even the Ray EV which the company plans to begin selling this year will be available only on Kia's Korean home turf. But the company suggested that could change, and perhaps soon. "Where the Naimo EV concept looks into the future of zero-emissions vehicles from Kia," said Michael Sprague, Kia's vice president for marketing and communications, "the Ray EV is the first realization for the brand and represents exciting new possibilities for the future in the North American market."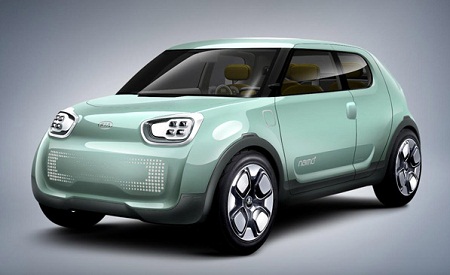 We spun out the details on the Ray just a couple of weeks ago – boxy-style crossover utility built on the same production lines as its regular combustion-engine sibling – so what of Naimo? Let's start with the name: Kia said it's "taken from the Korean word "Ne-mo," is pronounced "Neh-mo," and means "square shape." Appropriate.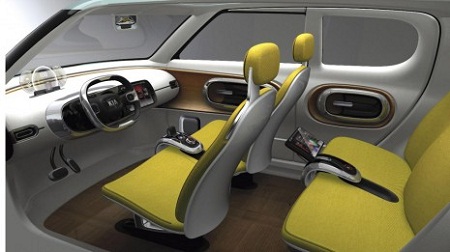 The big innovation with Naimo, Kia said, is something it calls a "User Centered Driving (UCD)" telematics concept. In practice, this means that instead of the traditional gauge cluster for vital info like speed and battery status, you get a digital "heads-up" display that incorporates "augmented reality features such as navigation directions or downloadable applications for parking to make driving an easier, more satisfying experience." A 12.3-inch touchscreen brings it all to life.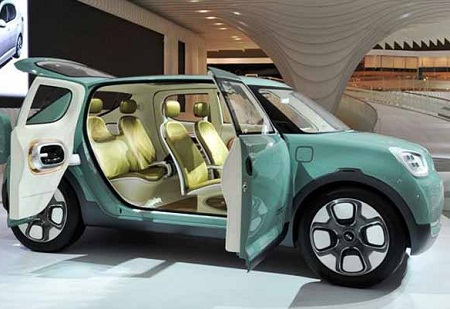 Meanwhile, Naimo is watching you, dear driver, to ensure you aren't nodding off behind the wheel. The car uses an infrared LED and camera to monitor eye movement. Kia didn't say explicitly what happens if it catches you dozing, but presumably some kind of alarm sounds – similar to the alarm, perhaps, that the company said will sound if the two infrared lamps and color infrared camera spot a pedestrian in the road ahead.
As for the more mundane specs – how the car moves – Kia said power comes from an electric motor with a maximum output of 107 horsepower and maximum 207 pound-feet of torque, enabling it to reach 93 mph. A twin-pack 27 kilowatt-hour battery under the trunk floor uses LiPoly (lithium ion polymer) technology, with the package providing a driving range of 124 miles on a charge.
Interestingly, Kia isn't the first auto manufacturer to showcase cars of tomorrow at CES. Ford, for example, used this giant tradeshow last year to debut its Focus Electric.