Beginning way back in 2002 under Gray Davis, building under his successor Arnold Schwarzenegger and accelerating further under current Gov. Jerry Brown, California has been in hot pursuit of renewable energy. And according to a new California Energy Commission report [PDF] flagged by EnergyBiz, the state is "on track" to reach an interim goal on the way to getting one-third of its electricity from renewables by 2020.
According to the report, around 16 percent of the energy sold in California in 2010 came from renewable sources, putting it in good position to reach the next renewable portfolio standard (RPS) target of 20 percent per year for the years 2011 through 2013. The report said 2,600 megawatts (MW) of new renewable capacity went into commercial operation since the RPS was established and "publicly owned utilities have added another 2,000 MW of renewable capacity since the RPS program began."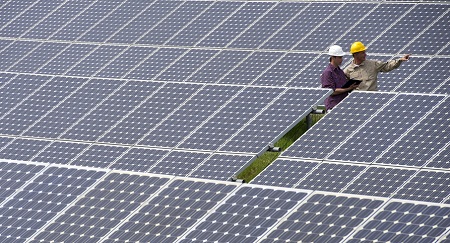 All told, renewable generating capacity in California reached 10,000 MW in 2010, the report said, with more than 4,300 MW coming from utility‐scale renewables, 1,700 MW from wholesale distributed generation systems and 1,400 MW from customer‐side distributed systems.
While Brown is supportive of utility-scale renewables development, he's made distributed systems a key focus of his efforts, setting a target of 12,000 MW of capacity by 2020. Advocates tout the inherent security of distributed solar, where a particular system failure has minimal impact, and say it can also be more efficient than the giant developments, which require transmission that is expensive and reduces efficiency.
"If existing state programs to support distributed generation are fully successful, the state could add 4,700 MW of additional capacity in the next five to eight years, leaving a gap of roughly 3,500 MW that may require additional programs or incentives," the report said. One thing that might aid the state in closing the gap: the falling price of solar PV.
The report noted that "even though Pacific Gas and Electric is offering a Performance Based Incentive of only 5 cents per kilowatt hour (down from 39 cents per kilowatt hour less than five years ago), systems are continuing to be installed." Last November, the Environment California Research & Policy Center said California's Million Solar Roofs Initiative was approaching the milestone of installing more than 1 gigawatts (GW) of rooftop solar power across the state, and was on track to meet its goal of installing 3 GW by 2016.
Beyond 2013, California's RPS targets continue to climb, reaching 25 percent by the end of 2016 before hitting 33 percent at the end of 2020. In addition to his goal of 12,000 MW of localized generation, Gov. Brown's Clean Energy Jobs plan calls for adding 8,000 MW of large‐scale wind, solar and geothermal. The report said the state has "an estimated 18 million MW of renewable technical potential (the amount of generating capacity theoretically possible), but said "achieving even a fraction of this potential … will depend on the ability of project developers to secure financing, permits, transmission, interconnection and power purchase contracts." And the report noted that plans do not always come to fruition.
"About 30 percent of long‐term RPS contracts (10 years or more) approved by the California Public Utilities Commission have been cancelled," it pointed out, adding that "the contract failure rate increases to about 40 percent if contracts that are delayed are considered." Based on that, the report advised utilities to contract for renewable capacity considerably beyond the amount needed to meet the RPS.