Over the last four years, the U.S. wind industry has attracted an average of $17 billion in private investment each year. Since 2005, domestic production of wind turbine components has increased twelvefold, with more than 400 plants now operating in 43 states. A large factor in the industry's growth has been the federal production tax credit (PTC), which provides investors in wind energy systems (and other renewable energy technologies) a tax credit equivalent to 2.2 cents per kilowatt-hour (kWh) produced. Originally enacted in 1992, and renewed and expanded several times, the credit it set to expire at the end of 2012. A new report from Navigant consulting finds that extending the PTC is essential to keep the industry growing, and prevent significant job losses.
According to the report, with the PTC in place, the wind industry is projected to create 54,000 American jobs in the next four years, including 46,000 manufacturing jobs. This rate of growth would keep the industry on track to support 500,000 jobs by 2030. However, if Congress allows the PTC for wind to expire, the report finds that private investment in the industry would drop by nearly two-thirds and nearly half of current wind industry jobs would be lost.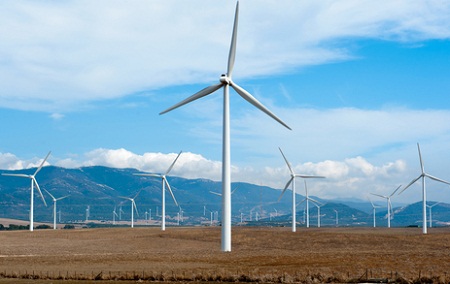 "American manufacturing jobs are coming back, with tens of thousands of new jobs from wind power," said Denise Bode, CEO of the American Wind Energy Association (AWEA). "But these jobs could vanish if Congress allows the production tax credit to expire, in effect enacting a targeted tax increase, and sending our jobs to foreign countries. Congress must act now to keep this American manufacturing success story going."
Representatives Dave Reichert (R-Wash.) and Earl Blumenauer (D-Ore.) have introduced legislation to grant a four-year extension of the PTC, which was recently endorsed by a coalition of more than 370 member organizations, including the AWEA. However, tax-based incentives remain controversial, even within the industry.