Japanese automaker Nissan has a special department where they make their cars faster, sportier and more responsive. Nismo, short for Nissan Motorsports, recently gave Nissan's new electric Leaf a full race car treatment. That car took its bows on the fabled course at the 24 Hours of Le Mans. Now, Nismo has given the Leaf a road-ready, high performance tune up. In short, the new Nismo concept car is taking the Leaf out of the suburbs and placing it smack in the middle of amped-up tuner car culture.
Nismo is starting with a full body kit to give the Leaf a more aggressively intense, road-hugging look. The new modifications include a newly designed aerodynamic front bumper, rear under protector, rear diffuser, extended side body skirts. The front bumper incorporates blue, under-body LED lighting which is arranged transversely to accentuate a sense of motion. But these mods are more than just window dressing. According to Nismo, they play a significant aerodynamic role, generating extra downforce at speed to enhance Leaf's handling and grip.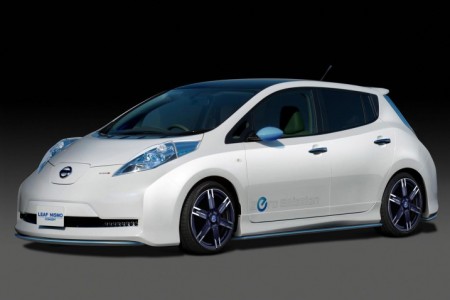 Nismo didn't touch the Leaf's 90 horsepower power plant or battery configuration, but the body mods did shave a few pounds from the vehicle. That weight loss, combined with the car's new 18-inch alloy wheels (up from the stander 16-inchers)  and low-profile tires could bump both speed and handling.
At this point the Leaf Nismo is still a concept and no plans for production, availability or pricing have been announced. However, the car does give a glimpse into what a truly sporty EV can be. According to Hideaki Wantanabe, Nissan's corporate vice president in charge of the company's electric vehicle business unit. "The Nismo Concept not only proves the hidden potential of Nissan Leaf but also adds even more excitement and energy to Leaf, delivering a guilt-free yet exhilarating driving experience that can be enjoyed by every car enthusiast."