Hot on the heels of news announcing that it would be signing a sponsorship deal for a solar power system at MetLife Stadium in New Jersey, we've received word that NRG – along with its partner The Kraft Group – will be implementing a comprehensive renewable energy supply agreement for Gillette Stadium, home of the NFL New England Patriots and MLS New England Revolution, and the adjacent Patriot Place, the Kraft Group's shopping, dining and entertainment complex, in Foxborough, Mass.
Under this agreement, NRG will triple the amount of solar power generated at Patriot Place with a custom-designed, 1-megawatt (MW) solar power installation expected to provide up to 60 percent of Patriot Place's power, reducing carbon emissions by more than 800 metric tons. The system will consist of a combination of standard and translucent solar panels that will partially cover Patriot Place's outdoor walkways, generating power while providing shade and cover for visitors year round. Additional rooftop panels will kick out more juice, bringing the expected annual output of the new solar power system to 1.1 million kilowatt hours.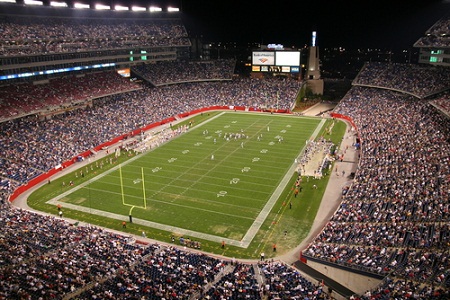 This new 1-MW project comes in addition to an existing 525-kilowatt photovoltaic power system at Patriot Place, creating one of the largest solar power systems at an NFL stadium. Construction of the new system is expected to be complete for the 2012-2013 NFL season.
Another green boon for the complex will arrive in the form of a full-sized wind turbine that, if installed today, would give Patriot Place bragging rights to one of the largest renewable power installations at a major sports venue in the United States.
After providing for the needs of Patriot Place, all additional power generated via these installations will go directly to the 70,000-square-foot Gillette Stadium. More on the agreement is available online.