MetLife Stadium in East Rutherford, N.J., home of the New York Jets and New York Giants, is getting a major green face-lift in the form of a custom solar power system expected to add "a striking visual element" to the top of the stadium. The installation comes as the result of a new sponsorship agreement between the New Meadowlands Stadium Company, which manages the facility, and NRG Energy, one of the largest solar power developers in the country.
Under the agreement, NRG will design, install and operate the MetLife Stadium's "Solar Ring," which will have the ability to display team colors and an array of additional hues to meet the needs of visiting events, including concerts and college sporting contests. And, oh yeah, it will also provide any electricity left over to power the 82,500-capacity stadium.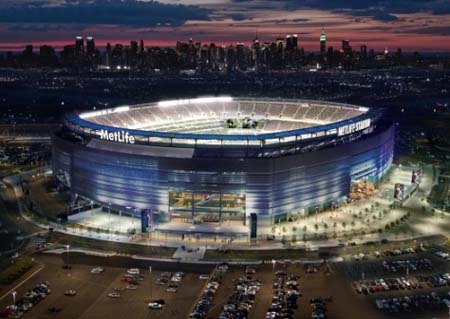 The solar power system will consist of approximately 1,500 individual panels manufactured by Atlantis Energy Systems of Poughkeepsie, N.Y., and is expected to generate nearly 25 times the amount of electricity needed to power its LED lighting and display system. The panels will be assembled into 52 modules raised to the top level of the stadium and bolted into a steel superstructure which will also provide shelter from rain and snow.
"A 'green vision' for MetLife Stadium dates back to the very beginning phase of our initial development," Mark Lamping, president and CEO of MetLife Stadium, said in a statement.  Woody Johnson, chairman and CEO of the New York Jets, added, "Our goal is to provide our fans with the best possible game-watching experience, one that is exciting, enjoyable and environmentally conscious."
Construction of the Solar Ring is expected to begin in the spring of 2012, with an expected completion date of August 2012, before the first exhibition game of the season.