Building wind turbines that are more reliable, more robust and less expensive depends, in part, on making wind turbine components that weigh less and last longer. A recent award [PDF] from the Iowa Alliance for Wind Innovation and Novel Development will enable a research team from the University of Iowa to investigate making lighter wind turbine components from ductile cast iron.
The Iowa alliance has awarded $300,000 to investigate methods of manufacturing wind turbine components from ductile cast iron, in the hopes of lowering the cost of wind power. Once the material of choice for old-world technologies like cannons, steam engines and woodstoves, cast iron is now commonly used to manufacture modern wind turbine components. One utility-scale wind turbine alone contains 15-20 tons of iron castings per megawatt. Unlike most varieties of cast iron, which tend to be brittle, today's component manufacturers use ductile cast iron, which is more malleable due to its graphite content.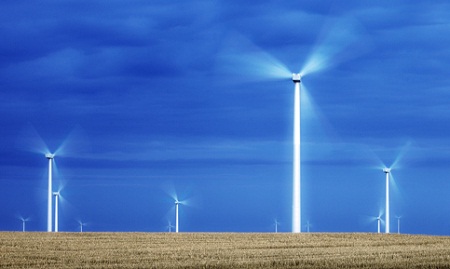 The research will be led by mechanical and industrial engineering professor Christoph Beckerman. The alliance's grant funds will be matched by Clipper Windpower and the North American Ductile Iron Company, which plans to open its first North American ductile iron castings foundry in Iowa City. The $85 million plant will initially focus on manufacturing large castings for the wind turbine market, and will employ 175 people.
"The wind industry is highly pressured to meet demand, with a current bottleneck concentrated on the ability to produce castings that meet required quality levels," Beckerman said in a statement. "This research will result in more reliable and higher quality castings that are less prone to failure in the field."
The Iowa Alliance for Wind Innovation and Novel Development is a partnership between Iowa's universities, community colleges, industry, and the Iowa Department of Economic Development, designed to support and facilitate the research and training needs of wind energy companies in Iowa.