If any of a number of Web-based translation services are to be believed, the Spanish word ventosa can mean "windy" or "windy spot." That fits. La Ventosa, in the state of Oaxaca, is the proposed site for a wind power plant that, if built, would be the largest in Mexico.
The Inter-American Development Bank (IDB) said it approved a loan of up to 1.1 billion Mexican pesos (around $72 million) to Mareña Renovables Capital, controlled by the Macquarie Mexican Infrastructure Fund and other investors, to help finance the 396-megawatt (MW) project.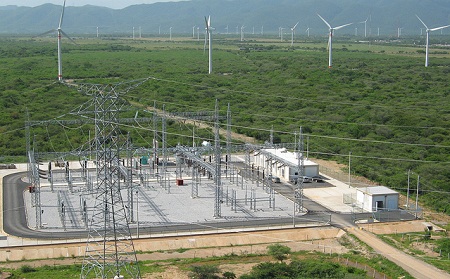 "This operation, given the size of the project, is a significant step in the development of viable renewable energy projects in Latin America,'' Jeff Easum, team leader of the project at the IDB's structured and corporate finance department, said in a statement. "We are helping Mexico harness its abundant wind energy resources to meet growing energy demand while reducing fossil fuel imports for electricity generation."
The IDB said the project would comprise as many as 132 towers with turbines and would also entail the construction of a 30-mile transmission line linking the plant with the grid.
Oaxaca is already home to a good deal of Mexico's large-scale wind generation, with Iberdrola Renovables operating one 80-MW plant (pictured above) while currently building another 103-MW plant there, and the IDB itself having financed some 318 MW of wind power in the state.