The first offshore wind turbine to be installed without the use of lift vessels—and the first floating wind turbine platform in the open waters of the Atlantic Ocean—has been successfully deployed. Energias de Portugal (EDP) and Principle Power said the 2-megawatt (MW) deep-water turbine called WindFloat was towed 215 miles and put in place about a few miles off the coast of Agucadoura, Portugal.
"This is an historic moment that takes your breath away," Alla Weinstein, CEO of Principle Power, gushed in a statement. "In a way we are making a similar leap towards new energy resources as the oil and gas industry did in the 1970s when it began using floating structures."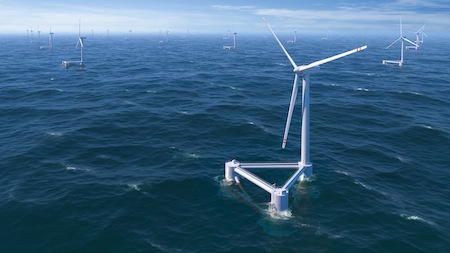 The partners behind WindFloat, built by Vestas, said it could open the door to harnessing offshore winds that are stronger and more consistent than what are accessible with conventional offshore wind technology, in which heavy, custom-designed vessels lift turbines onto set platforms. "Now is the time for extensive testing and validation, moving forward in the development of this promising technology," said Antonio Vidigal, CEO of EDP Inovacao.
The group said WindFloat will, indeed, undergo several weeks of a testing, including "trial operations trial operations and a phased ramp-up in power production to full capacity."