It's the progressive take on the energy future, in a nutshell: When companies invest in controlling their carbon emissions, it creates jobs and does wonders for economy. Conservative intellectuals might have a different view, but those are precisely the findings of a new report put out by the pro-environment coalition Ceres in collaboration with the Institute of Clean Air Companies (ICAC), a trade association of companies that supply air pollution control and monitoring technology.
The report, "New Jobs – Cleaner Air Part II: An Investment in American Businesses and American Jobs," focuses on case studies of companies involved in building a fleet of modern power plants. It was written with an eye toward U.S. Environmental Protection Agency (EPA) rules in the works that call for power plants to slash emissions of mercury, lead, arsenic and acid gases by 2015. Estimates from the EPA show that the total amount of investment needed to comply with the new Clean Air Act rules would be at least $94 billion. Ceres and ICAC say that money would go directly to American companies, creating much needed construction and manufacturing jobs.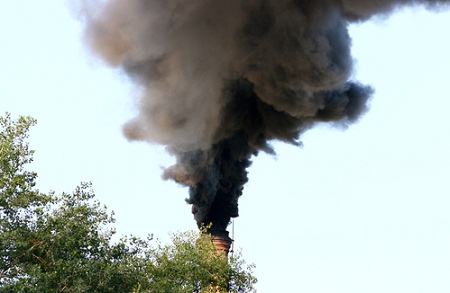 "There is an unprecedented amount of capital sitting on the sidelines of the economy. There's also a large pool of skilled labor not being utilized. Eliminating the uncertainty around these rules will connect those two dots," David Foerter, the ICAC executive director, said in a statement. "Everyone from small companies to multi-national corporations will see immediate gains as orders are placed and skilled labor is hired for these projects. The entire supply chain will benefit."
According to the groups, the Bureau of Labor Statistics reports that every million dollars of investment in a construction project leads directly and indirectly to 11 new jobs. That means retrofitting a coal-fired power plant with $200 million worth of air pollution control equipment would result in 2,200 jobs. The study says such  projects would then cause a  ripple effect when newly employed workers spend their wages.
The new report builds on an earlier study by Ceres, done with the  Political Economy Research Institute at the University of Massachusetts, Amherst, which asserted that if the EPA follows through on Clean Air Act rules, investments in pollution controls and new generating capacity would create 1.46 million jobs, or about 290,000 jobs on average in each of the next five years.