Between 1958 and 1968 the Associated Equipment Company produced almost 3,000 of their iconic "Routemaster" busses. Over the years, the bright red, double-decked, open rear platform buses became a symbol of London for residents and tourists alike. Though popular, the diesel powered engines were loud, dirty and inefficient and by the early 1980s, the Routemasters were an endangered species. London's privatization of its bus lines in 1984 sealed its fate and by the mid 1990s the bus became increasingly rare, seen mostly in service for private bus and sightseeing companies and a small number of tourist-based "heritage" routes.
Now, the "Routemaster" is back, redesigned as a hybrid for clean, efficient operation and, backers hope, ready to step into the cultural void left by the old model. The new model, now in its prototype testing phase, was recently unveiled at a splashy London ceremony that saw London mayor Ben Johnson take one of the first rides on the "hop on, hop off" bus.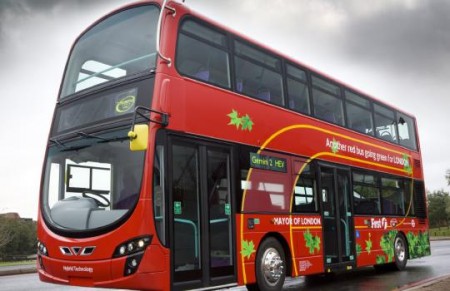 Designed from the wheels up to be a "London" bus, the new Routemaster is built in Northern Ireland by the Wright Group. The bus is constructed from lightweight materials and features front and rear staircases, three entrances (one wheelchair accessible), and an open, hop-on, hop-off platform in the back. In testing, the new Routemaster, which is powered by a hybrid-diesel engine, earned 11.6 MPG, almost twice the fuel economy of a conventional diesel bus. The new bus, which can accommodate 87 passengers, is also considerably cleaner than a conventional diesel bus, emitting about half the emissions.
In total, eight of the new buses will enter passenger service in the first half of 2012.  The prototype buses will be field tested in passenger service and the performance and passenger feedback will be evaluated. If the trial is deemed successful there could be hundreds of these buses operating across London in the coming years.
Getting these eight on the road has not been cheap. The combined cost of developing the new bus and a contract for eight production models came with a price tag of $17,777,035. Each new bus will cost $492,500.
The Mayor of London, Boris Johnson, said: "Christmas has arrived early in the form of this revolutionary new bus whose gleaming coat of red paint and sinuous curves will brighten the day of all who see it humming along our great city's streets. It is the latest, greatest masterpiece of British engineering and design, and I am certain it will become a much-loved and iconic vehicle akin to the legendary Routemaster from which it draws so much inspiration."