Two years ago, the city of Austin, Texas, signed on for the first North American pilot program of car2go, the Daimler-owned car-sharing network. Now, with the pilot program complete, Austin is sticking with car2go, and vice-versa. The on-demand car sharing company recently announced it had signed a new agreement with Austin, where car2go is headquartered.
In addition to the agreement, car2go also announced it will introduce several electric vehicles (EV) to its Austin fleet in 2012. The cars, smart fortwo EVs, will be marked with "Electric Drive" on the side, and information about the vehicles and how to recharge them will be shared with members via email and social media. Those new fortwos will also feature an updated version of the "telematic" touch screen inside the vehicle. A zoom-in and zoom-out function will now be available on the GPS navigation, and the map will now include indicators for each car2go designated parking space, so that members can easily find parking.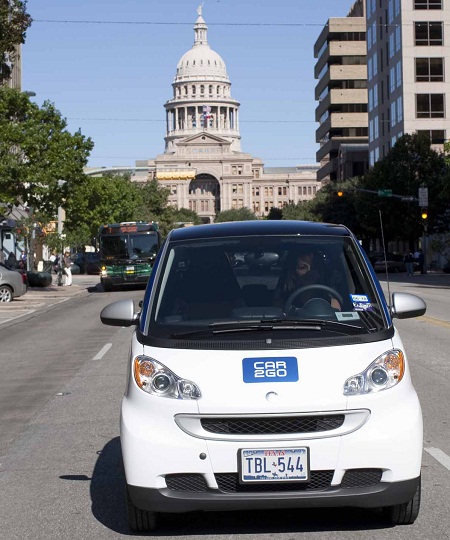 So far, car2go has had great luck in Austin, according to the company. After only two years of operation, the number of registered members have passed the 21,000 mark. Those members, who pay a $35 fee, can use any company car any time. Members can either reserve a car or pick one up on the go at downtown Austin locations. When members are done using the car, they simply leave it within the company's operating area. Customers are charged only for the time driving the vehicle – $12.99 an hour/$65.99 a day – and that includes fuel, insurance and maintenance.
The success of car2go in Austin has encouraged car2go to expand to other cities throughout North America. In June 2011 the company launched its first Canadian city in Vancouver, British Columbia; and in November 2011 car2go launched the first all-electric car-sharing network in North America in San Diego. In Europe, car2go operates in Ulm and Hamburg, Germany, as well as in Amsterdam and Vienna. Throughout the next several years, car2go hopes to expand to more than 50 cities worldwide.
"The city of Austin is committed to bringing the best transportation options to its residents, and our new car sharing program will be a tremendous addition to our transportation system in Austin," Austin Mayor Lee Leffingwell said in a statement. "The residents and businesses in Austin now have more transportation options, with the overall goal of reducing downtown congestion and improving the overall quality of life in Austin."