More legal hurdles still stand in its way, but Cape Wind, the massive wind power project planned for Nantucket Sound, scored a win today when the Massachusetts Supreme Judicial Court upheld the developer's power purchase agreement (PPA) with National Grid.
Cape Wind and National Grid came to terms in May 2010 on a deal that would send half of the 130-turbine project's power output to the big Northeast electricity provider. The state's Department of Public Utilities (DPU) approved the PPA in November 2010, saying that the above-market rates that would result were justified because the project would help to meet state renewable energy and greenhouse gas requirements. A wide range of opponents challenged the approval.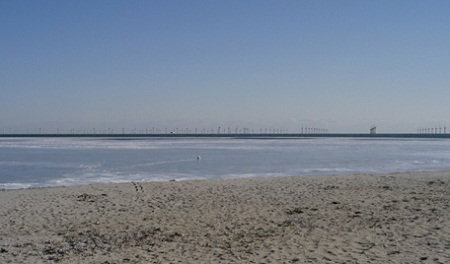 As Cape Wind pointed out today in a celebratory press release, the state high court pointedly agreed with the DPU's reasoning. "In sum," the court wrote, "our review of the record indicates that there was clearly sufficient evidence of which the department could base its conclusion that the special benefits of PPA-1 exceeded those of other renewable energy resources, and we uphold the department's conclusion that approval of the contract was in the public interest."
Cape Wind called the court's decision "a major legal victory," but the project faces still more challenges. Among them: This fall, the U.S. Court of Appeals for the District of Columbia Circuit overturned the Federal Aviation Administration's finding that the project posed no hazard to aviation, forcing the agency to conduct a new review of the matter.