A new wave energy project is being planned for development off the coast of Garden Island in Western Australia, near Perth. The 5-megawatt (MW) "Perth Project," designed by developer Carnegie Wave Energy, will use Carnegie's Ceto wave energy technology. The company recently announced it completed the "basis of detailed design" for the project, which triggered a $145,000 disbursement from the government of Western Australia under Carnegie's $12.5 million grant. Carnegie will now begin the project's final design stage.
Named after a Greek sea goddess, Carnegie's Ceto wave power system is unique in not requiring construction of undersea grids or high voltage transmission lines; and it also produces fresh water through seawater desalination. The system consists of submerged buoys anchored to the sea floor and tethered to pump units. As waves pass over, the buoys drive pumps, which pressurize water and deliver it onshore through a pipeline. The high-pressure water drives onshore hydroelectric turbines, generating zero-emission electricity. The system is also said to have no significant impact on marine life, and will be constructed out of the way of popular surfing areas.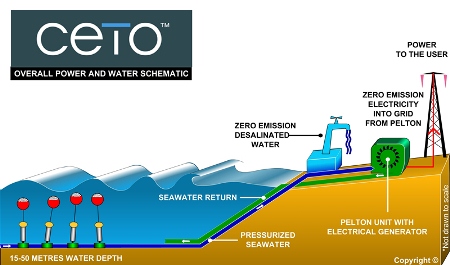 The Perth Project has already completed a pilot test, using a standalone Ceto unit installed off the coast of Garden Island. The system was not grid-connected, but provided valuable performance data for the second phase, the company said.
During stage 2, the company will construct a grid-connected commercial scale demonstration project, consisting of multiple submerged Ceto units in an array. The units will be connected to an onshore power generation facility via a subsea pipeline. The project will be commissioned in two stages. The first stage will have a peak rated capacity of 2 megawatts (MW), followed by a second stage of 3 MW. Carnegie has also planned a similar project in Ireland, and is working on several proposed projects, including in Bermuda and British Columbia.