You'd expect the signature building at the heart of San Diego's biotechnology cluster to make use of some forward-looking tech, and the Sanford Consortium for Regenerative Medicine – nicknamed the "Collaboratory" – does just that, focusing on green building design as well as the latest in biomedical lab equipment.
The building was designed by Fentress Architects (in partnership with Davis Davis Architects) to "enhance communications between the best minds in biomedical research," aka, researchers with the Salk Institute for Biological Studies, the Scripps Research Institute, the Sanford|Burnham Medical Research Institute, the University of California, San Diego, and the La Jolla Institute for Allergy and Immunology, all of which will make use of the building. Scientists from the five collaborating organizations are expected to conduct stem cell, neuroscience and cardiovascular research.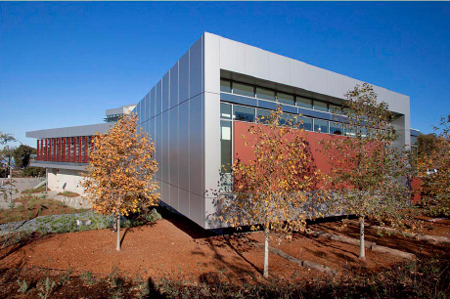 Green features of the building include natural daylight harvesting and passive solar orientation; shading devices and operable windows; displacement ventilation and chilled beams to enhance energy efficiency; FSC certified wood; native plants and adaptive species in the landscaping; low-flow plumbing fixtures; reclaimed water for irrigation; and a bike storage area and changing room.
A pedestrian bridge leading to the main entrance of the building passes over a restored landscape of  madrone trees, which will be mist-irrigated to encourage the regeneration of native plant life.  Eucalyptus trees, cut from the site, were reused as design elements within. Other green strategies include recyclable pecan chips in landscaping area instead of mulch, and parking lot bioswales that work to filter and absorb storm water on-site.
The Sanford Consortium for Regenerative Medicine will be pursuing LEED certification at the Gold level.