Those 262 GE wind turbines bound for the Flat Ridge 2 wind power plant in Kansas aren't the only ones BP Wind Energy has purchased in recent weeks. According to the companies, BP has also ordered 88 GE 1.6-82.5 turbines – those are a bit shorter than the 1.6-100 units going to Kansas – for its Mehoopany Wind Farm outside Scranton, Pa.
In all, that's 560 megawatts (MW) of wind capacity going to BP for $750 million, including the cost of a five-year service agreement. And yep, GE is happy. "We continue to see strong demand for our advanced wind turbine technology because of its capability to meet the economic and environmental priorities of operators like BP Wind Energy," Victor Abate, vice president of renewables for GE Power & Water, said in a statement. GE has received more than 2 gigawatts (GW) of orders for the 100-meter versions of its 1.6-MW turbine since it hit the market earlier this year.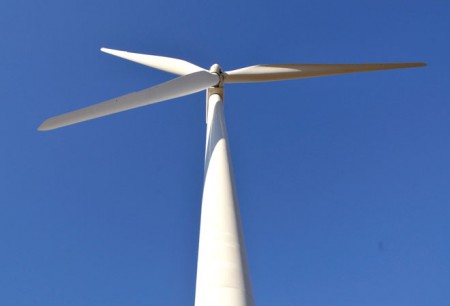 Like Flat Ridge 2, Mehoopany [PDF] is expected to be online by the end of 2012, BP said. The 144-MW capacity plant is being built on a 9,000-acre site in Wyoming County, about 20 miles northwest of Scranton.
BP said that to date, about 30 percent of its wind "fleet" – which totals about 1,600 MW in capacity – consists of GE turbines. What is it BP Wind Energy likes about GE? President and CEO John Graham said it's that GE "delivers proven wind turbine technology and competitive maintenance contracts."