Like many parts of the developing world, most households in the land-locked African country of Zambia rely on kerosene lamps for lighting. The lamps require expensive fuel inputs and can be a fire hazard indoors. Through its recently launched "Every Child Has a Light" program, residential solar leasing company Sungevity hopes to make a small difference. For every residential solar energy system it installs in the United States, Sungevity will donate a solar light kit to a school in need in Zambia.
The program is being made possible through a partnership with Empowered by Light, a nonprofit organization dedicated to improving lives through the use of renewable energy technologies. Each Pharox solar light kit, a product of Netherlands-based Lemnis Lighting, contains a triple LED lamp, a solar panel and a built-in USB connection to charge mobile devices. The self-contained unit's battery can charge in less than eight hours in full sunlight, and can provide eight to 45 hours of light, depending on the chosen light level.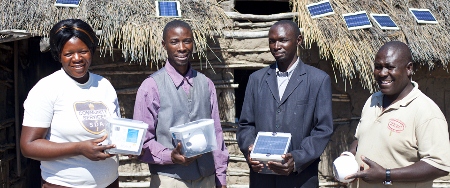 Empowered by Light aims to deliver 5,000 solar-powered LED light/cell phone charge kits to rural Zambian schools. According to Empowered by Light, better lighting extends the learning hours for students and allows people to read, study, cook, bathe, clean and pray at night. Evidence also suggests that improved lighting may encourage teachers to remain at remote schools. In June, Empowered by Light distributed its first set of lights to all 53 schools in the Shangombo District of Western Zambia.
"Solar power is a sustainable way to light up a child's world," said Sungevity president Danny Kennedy. "The program allows us to empower communities with alternative energy sources that can fuel both their everyday needs and their future prospects. When going solar also means giving solar, it's a powerful opportunity to reduce our energy footprint and utility costs locally while also enabling healthier, safer living globally."