House Republicans, keeping the pressure on the White House on the Solyndra loan guarantee failure, voted Thursday to subpoena documents from the Executive Office of the President and the Office of the Vice President relating to the case. Ironically, that move on Capitol Hill coincided with Day 2 of the auctioning at Solyndra's shuttered Fremont, Calif., headquarters of the bankrupt company's "non-core" assets.
The 14-9, party-line vote in the House Energy and Commerce Subcommittee on Oversight and Investigations came a day after Energy and Commerce Committee Chairman Fred Upton (R-Mich.) and Oversight and Investigations Subcommittee Chairman Cliff Stearns (R-Fla.) met with White House Counsel Kathryn Ruemmler "in an attempt to broker a deal in the ongoing effort to gain White House cooperation and obtain internal White House communications related to the ongoing Solyndra investigation," the Energy and Commerce Committee said in a news release.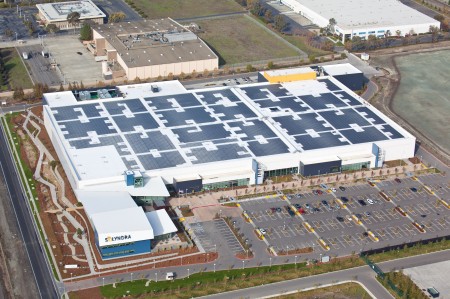 In rebuffing the committee's request late last month the White House argued [PDF] it had "cooperated and will continue to cooperate with legitimate Congressional requests," and noted it had turned over more than "70,000 pages of documents … and participated in multiple Committee briefings and hearings." But the White House said the committee had crossed a line in requesting internal executive branch discussions. "Republican and Democratic administrations have sought to avoid the chilling effect that disclosure of such internal communication to Congress would have on the free and open exchange of ideas within the White House," Ruemmler wrote.
The solar-panel manufacturer Solyndra had received federal backing for $535 million in loans  in 2009. In late August this year it declared bankruptcy and closed down, putting 1,100 employees out of work and leaving taxpayers potentially on the hook for nearly a half-billion dollars.