In 2006, 2008 and again in 2009, when the Pew Research Center asked Americans if they backed "increased federal funding for research on wind, solar and hydrogen technology," support was overwhelming, topping 80 percent overall, with little distinction between Republicans and Democrats. Those days are gone. Now, like seemingly everything in our left-right, blue-red culture, it's another partisan issue.
Pew reports [PDF] that an early November survey done with the Washington Post showed 83 percent of Democrats backing increased funding for alternative-energy research, while Republican support – at 82 percent just two years ago – had slid to 53 percent. Overall, 68 percent of Americans favored more such spending, with 26 percent opposed.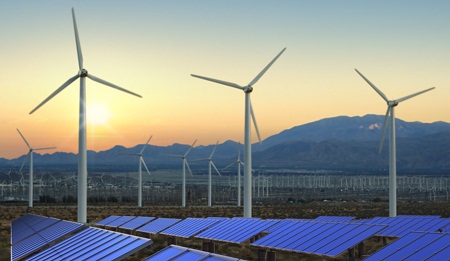 Readers remembering a recent Solar Energy Industries Association (SEIA) poll that seemed to indicate strong support among Republicans for solar power subsidies might be confused by this Pew result – but the difference could lie in the way the questions were posed. The Pew poll simply asked if people supported funding for the alternative technologies, with no preface. The SEIA survey, however, first asserted that "the federal government currently gives subsidies, such as federal tax credits and grants, to traditional sources of energy, such as oil, natural gas and coal," and then asked, "How likely would you be to support similar subsidies for solar energy?" To that, 72 percent of Republicans indicated some level of support.
The Pew poll also asked respondents if they felt government support was necessary to develop new energy technology, or if they felt business would take care of it. Sixty-eight percent of Democrats and leaning-Democrats said government support was necessary, vs. just 36 percent of Republicans.
Partisan gaps were also evident on other energy questions, but Pew said that was nothing new: Republicans backed more mining and drilling on federal lands by a 32 percentage-point margin over Democrats; expanded offshore oil drilling by a 31-point margin; and increased use of nuclear power by 24 points.
Pew said the poll was based on telephone interviews conducted November 3-6 among a national sample of 1,005 adults 18 years of age or older living in the continental United States. Margin of error was 4 percentage points overall, and up to 6 percentage points within sample subgroups.
Help Carbonfund toward their goal of planting 1,000,000 trees. Subscribe to Green Earthling Deals by Friday, Nov. 25, 2011, and EarthTechling will donate $1 for every new subscriber. See contest rules for details. Sign up in the upper right-hand corner at EarthTechling.com or right here.