Booyah, Oregon. A recent study by cleantech research firm Clean Edge, co-sponsored by the Portland Development Commission and Business Oregon, ranks the Beaver State second in the nation in clean energy leadership, and near the top nationwide in a number of key assets influencing its potential for further cleantech sector development.
The study, "Oregon's Clean Energy Economy" [PDF], was built around data from Clean Edge's 2011 "State Clean Energy Leadership Index," a subscription-based research service that produces performance scores and rankings for all 50 U.S. states based on activity in three categories: technology, policy and capital. It backs up the findings of two other reports – by the Pew Center on the States and the Brookings Institution – that also put Oregon at or near the top nationwide in terms of the overall percentage of jobs dedicated to the clean economy.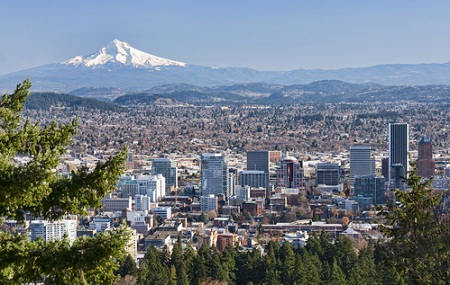 Other key findings from the new Clean Edge study gave Oregon high marks in LEED certified green building projects per capita (No. 1 in the nation);  smart meter penetration (No. 2 in the nation); hybrid electric vehicle adoption (No. 3 in the nation); and total installed wind capacity and generation (No. 6 in the nation).  Oregon joins Washington and California as one of the top three states for total EV charging stations (as well as charging stations per capita), and ranks in the top five states for total clean energy venture investments in recent years, on a per capita basis.
The study also noted that Oregon is home to several top clean energy employers, including SolarWorld (1,050 employees), Sanyo (200), Vestas (400), Iberdrola (400), CH2MHill (1,000), PECI (312) and ClearEdge Power (225).
All of which would satisfy many a green Oregon advocate, but not, apparently, Portland Development Commission's Executive Director Patrick Quinton, who called for further measures to cement the state's status as a green powerhouse, as well as Portland's role in that future. "The Clean Edge report confirms our competitive advantage in talent, technology deployment, supportive government policies and capital attraction," Quinton said in a statement. "But we need to go beyond business as usual to strengthen our case for Portland as a center for clean energy growth and business success."
Help Carbonfund toward their goal of planting 1,000,000 trees. Subscribe to Green Earthling Deals by Friday, Nov. 25, 2011, and EarthTechling will donate $1 for every new subscriber. See contest rules for details. Sign up in the upper right-hand corner at EarthTechling.com or right here.